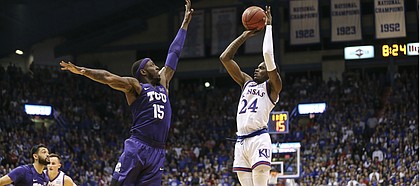 The on-again, off-again Lagerald Vick experience for Kansas basketball has returned to the off position. This time for more than his play on the floor.
The lone senior on the 2018-19 Kansas basketball roster is taking what the Jayhawks are calling a "leave of absence," from the team, effective immediately, KU coach Bill Self announced Thursday night.
"Lagerald has some personal matters that require attention and he will be taking a leave of absence from our team," Self said in a press release. "During this time, we will respect Lagerald's privacy. There is no timetable for his return."
After opening the season as one of the hottest players in college basketball and consistently drawing praise from Self for his attitude and effort — "He's been a 10," Self was heard saying throughout the offseason and early portion of the current season — Vick fell off considerably in terms of both his production on the floor and his impact on the team.
It was always expected that his 60-plus percent shooting clip from 3-point range in the opening weeks of the season would level off and land closer to his career average of just over 40 percent. But since the start of Big 12 play, the senior from Memphis has shot just 45 percent from the field overall and struggled mightily with turnovers.
His 58 turnovers through 23 games lead the team and his 4-game stretch to open Big 12 play, when he averaged more than five turnovers per game, set the tone for the beginning of the drop-off.
Beyond that, his 19 minutes in a recent loss to Kansas State were a season low, only barely eclipsing his third-shortest outing of the season of 23 minutes, which came two games earlier after Vick was replaced in the starting lineup by freshman Ochai Agbaji in KU's loss at Texas.
To date, Vick has made 20 starts in 23 games and still ranks second on the team in scoring at 14.1 points per game in 33 minutes a night.
Despite his dip in production and on-court issues that took him out of several of KU's biggest games, Vick's struggles reached a boiling point on Tuesday night in Manhattan, where he played just 4 minutes in the first half of KU's 74-67 loss to the Wildcats and was benched by Self for the start of the second half in favor of reserve guard Charlie Moore.
Asked after the game if it was a lack of production that landed Vick on the bench, Self said simply, "No. There (were) other reasons."
One reason appeared to be the way Vick interacted with his teammates during the loss to K-State. Although Self did not specifically single out Vick in his postgame meeting with reporters, the KU coach was critical of a sequence early in the game that seemed to involve Vick.
"Right when the game started, there were two easy switches that we've practiced the whole time that they get wide open shots," Self bemoaned. "Then guys want to blame other people. That's not how you win on the road."
Asked on "Hawk Talk" if he thought Vick had done some soul-searching in the days since KU's loss to K-State, Self paused before answering.
"Probably. Probably," the KU coach said. "I'll say this: Not being totally negative at all, he's got some things going on that (aren't) public things and he hasn't been his best because of those things."
And with that, a career marked by incredible highs — Vick set a school record for 3-point makes without a miss earlier this season, was a huge part of last season's Final Four run and recently eclipsed the 1,000-point mark — and equally unbelievable lows — multiple benchings for off-the-court or attitude issues throughout his 4-year career and head-scratching plays on both ends of the floor throughout the current season — is suddenly in question with eight games remaining in the regular season.
There's little doubt that this young Kansas team will miss Vick's explosive potential, fearless attitude and big-game experience. But his inability to consistently stay plugged in and his propensity to disappear too often may not be missed.
"I don't think it's anything you go into," said Self of Vick's personal issues on "Hawk Talk" before Thursday's news was released to the public. "But it'd be nice to have our full complement of everybody."
With that said, Self once again referenced what has been a popular topic this season— talk by him or anyone else in KU blue of excuses for KU's struggles.
"I've never bought into that, 'We didn't have him or this or that,'" Self explained. "You know, you still play. You still put five (players) out there. A lot of times when you don't have somebody, the guy you put out there is actually better than the guy you had."
According to Self, that was the case Tuesday night in Manhattan, during the first half of the Jayhawks' loss to Kansas State.
"We were actually better," Self said of his team's performance after he benched Vick for the final 16-plus minutes of Tuesday's first half. "We go from down 9 to going up 6. We were actually a better basketball team the last 15 minutes of that half."
Without Vick, the Jayhawks, who opened the season loaded with depth and talent and ranked No. 1 in the Associated Press Top 25, are down to just eight healthy scholarship players, nine when injured sophomore Marcus Garrett returns to the lineup.
Self said Thursday night on "Hawk Talk" that Garrett was "doubtful" for Saturday's 11 a.m. game against Oklahoma State at Allen Fieldhouse.
"He actually did get on the court again today and move around maybe at half speed or something like that," Self said of Garrett. "He's doing really well. But those high ankle sprains aren't something you come back in a quick time frame."
With Vick away from the team and Garrett still out, freshmen Devon Dotson, Ochai Agbaji and Quentin Grimes join sophomores Charlie Moore and K.J. Lawson to make up the current KU backcourt. Juniors Dedric Lawson and Mitch Lightfoot join freshman David McCormack to make up the Jayhawks' front court.
Udoka Azubuike is injured. Silvio De Sousa is ineligible. And Vick is now gone, too.
That trio combined for 27 points and 21 rebounds in 86 minutes in KU's Elite Eight victory over Duke last season. To have all of them return yet none of them currently available is, in many ways, the perfect microcosm of KU's 2018-19 season.
Even with that, the Jayhawks (17-6 overall, 6-4 Big 12) remain in striking distance in the Big 12 race and their quest for a 15th consecutive conference crown.
KU is currently just a game and a half behind the first-place Wildcats (7-2), with Iowa State (7-3) and Baylor (6-3) also ahead of the Jayhawks in the current standings.
Both Baylor and Kansas State still come to Lawrence before the end of the regular season, and those two teams play each other in Waco, Texas, this weekend.