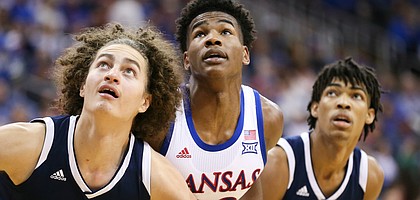 Winners of nine consecutive games since a season-opening loss to Duke in early November, Kansas coach Bill Self believes his team may actually have benefited from the early setback.
"I think it was a good thing probably to have the experience," Self recently said of the loss to Duke at the Champions Classic, where KU committed 28 turnovers in a two-point loss to the Blue Devils. "I wish you could learn just as much through winning as you do not winning."
Now in his 27th season as a Division I head coach, Self seemed to know shortly after the final horn sounded in New York that the loss to Duke could go down as a positive thing provided his Jayhawks responded in the proper way.
"It's a learning experience," Self said at the time. "I don't know that a game, win or lose, on November 5 is going to count much in March, but there are a lot of things we can learn from this game and hopefully improve on."
In many ways, the Jayhawks have done that in the six weeks since the season opener.
Their turnovers are down to an average of 14 per game, their defensive intensity has been turned up — opponents are shooting just 38% against the Jayhawks — and they have a Maui Invitational title and nine wins by an average margin of 24 points per victory on their resume as they enter Week 7 of the season as the No. 1-ranked team in the country in the national polls.
While not all of those issues plagued them against Duke, the Jayhawks (9-1) appear to have emerged from that loss with a hunger that has yet to be satisfied.
And their drive appears to be coming from multiple players in multiple ways.
Although point guard Devon Dotson leads the team and the Big 12 Conference in scoring at 19.6 points per game, four other Jayhawks have led the team in scoring during the first 10 games of the season and the Jayhawks have benefited from nine instances when an individual player has topped the 20-point mark in a single game.
"We're very versatile team," Dotson said. "On any given night, it can be somebody's game, so we're very deep and we just have to keep it going, you know, look in each and every day at practice and keep going."
That approach has been the focus for the Jayhawks since returning from New York. And while their coach continues to push them and insists that there's still another level or two to which this team can climb, through the aid of hindsight he's now able to look back on that Duke loss as something that helped this team get to where it is today.
"I don't know that there's ever good losses," Self noted. "But they're not bad losses if you learn from those losses and you don't let those same things happen again. … Maybe it was what this team needed at that particular time to kind of knock us down a little bit, to let us know that we're a long ways from being a good basketball team if you equate good with being elite because we weren't close at that time."
Saddled with its new No. 1 ranking, the Jayhawks will be off the rest of the week before heading to Philadelphia on Saturday for a clash with No. 18 Villanova at 11 a.m. on FOX.