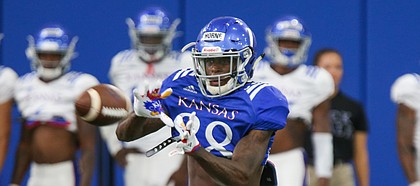 The secret is out.
The fastest man on the Kansas football roster isn't a widely known running back or even a touted young prospect from the program's most recent recruiting class.
His name is Jamahl Horne. He redshirted in 2018. He plays receiver. And at one offseason workout, he blew his teammates away.
The Jayhawks had gathered on a typically hot Lawrence summer day at the team's turf practice fields near David Booth Kansas Memorial Stadium for a conditioning session when Horne first made a name for himself. They already had put in some serious work when it came time to run the 40-yard dash.
KU's receivers lined up first, which meant all the defensive backs made sure to situate themselves near the timers and stop watches so they could see exactly how fast their teammates sprinted.
After they watched Horne, a 5-foot-10, 186-pound redshirt freshman from Miami, Fla., fly past the rest of the group, the defensive backs all had to know the results. Once the outcome — 4.28 seconds — was confirmed, the lore around Horne was cemented.
"We were all drowning in sweat," Defense recalled of the moment when the Jayhawks found a new level of respect for Horne. "He still ran fast, though. Props to him. I won't forget it."
The same went for every KU player who witnessed the feat, which was recorded, according to those who observed it, on an electronic laser timer.
Ask KU senior safety Mike Lee if Horne is fast, and Lee will smile and nod, while referencing the day Horne grabbed everyone's attention.
"Yes — 4.2 40 laser. That's all I can say," Lee stated. "Four point two 40. Laser."
That moment obviously opened the eyes of Horne's teammates. According to Lee, KU football fans will become familiar with that velocity, too.
"When game time comes, whoever comes to the game is going to see it," Lee predicted. "He can really surprise a lot of people. Keep your eyes open."
If KU ends up fielding the opening kickoff of the season, Horne could become the first Jayhawk to touch the football during Les Miles' debut as head coach.
"I'm a kick returner," Horne said this week of his primary role with the team at the moment. "I love it. I love kick returning. I've been doing it forever."
At Sunset High in Miami, Horne did even more. Through the years he took snaps not only at running back and receiver, but also at quarterback.
"They just wanted the ball in my hands," Horne related.
Eventually, he could become a versatile contributor at KU, as well. Horne certainly possesses the self confidence to put his speed to good use, beginning this year on special teams.
"Yeah, I'm the fastest on the team. For sure," Horne replied, when asked if he could lay claim to that title.
What's more, Horne thinks he can "probably run faster" than the 4.28 he posted this summer, citing his "heavy legs" on that particular run and projecting himself capable of running the 40 in 4.2 seconds flat.
As someone who has lined up against Horne during practices, dating back to last year, when Horne played on the scout team, Defense proclaimed that the redshirt freshman receiver looks different from most Jayhawks when he's running.
"He's moving. Jamahl, he can move — 4.2 is definitely noticeable, especially on something like a go route, where he doesn't have to make any cuts or something," Defense said. "I'm not a 4.2 guy. So I couldn't really tell you what it feels like or what it's like being 4.2. But he's definitely different. You can definitely tell."
Horne didn't mind sharing that when he gets reps at receiver, the defensive back lined up against him typically backs up a few steps in preparation for what's to come.
According to Defense, the corner or safety in that spot has to give Horne some cushion, or else that defender is going to hear about it after the fact when reviewing practice footage with the coaching staff.
Per Defense, here's how that back and forth would go, if a defensive back tried to play Horne tight at the line of scrimmage:
Coach: What does he run?
DB: 4.2.
Coach: What do you run?
DB: 4.4, 4.5.
Coach: So who's faster?
"We're not going to give him that advantage," Defense explained. "A good receiver like that, he wants us to come and play close, so he can get separation and run by. We're not going to give him what he wants. You know what I'm saying? At the end of the day we're going to play to our strengths, not his strengths."
The Jayhawks intend on turning Horne's straight-line speed into an effective aspect of their kick return game.
While Horne's 40-yard-dash is what created the buzz, Defense could remember at least one play during camp that proved the receiver is more than just a sprinter. Horne turned a shallow pass across the middle during a live tackle period into a touchdown.
"He crossed the middle from the right side. He caught it literally like in between two of the linebackers and whoosh — got ghosted," Defense recalled. "(Horne's speed) was already official. But now it's official official."
Based on what they've seen of Horne's on-field speed already, both Defense and Lee expect him to surprise observers and opponents this fall.
Horne said there's more to his approach than his acceleration, though.
"I'm aggressive," Horne said. "You can't be afraid to be great."