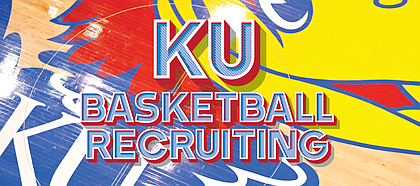 One of the top basketball prospects in the country plans on joining the college ranks a year sooner than originally expected.
Joining the recent reclassifying trend for players of his caliber, Kansas basketball recruiting target J.T. Thor, rated a five-star power forward, decided to move up a year and join the Class of 2020, Corey Evans of Rivals reported.
Listed at 6-foot-9 and 185 pounds, Thor already reportedly owns scholarship offers from KU, Arizona, Florida, Maryland, LSU, UCLA and several other programs.
Formerly a standout at Huntington Prep, in West Virginia, Thor is set to finish his high school carer at Norcross High, in Georgia, Rivals reported.
According to the prospect, his recruitment remains wide open. Thor tweeted that "nobody" is in the lead in trying to land his commitment.
Per Rivals, Thor plans to release a list of his top schools by the end of August.
Dok to be heard from in March
According to national college basketball reporter Andy Katz, the 2019-20 Kansas basketball team has a big man inside whom he expects will make some noise in the next NCAA Tournament.
Katz included KU senior center Udoka Azubuike on his list of "16 names that we're going to be talking about in March."
While Katz also considers sophomore KU point guard Devon Dotson to be one of the better players in the country, he went with Azubuike as the team's ultimate difference maker.
"You could go with either Dotson or Azubuike," Katz said in a video posted to the NCAA's college basketball Twitter account, "but I think Azubuike will have a major influence on whether or not Kansas is in the Final Four."
Only one other Big 12 player made the list: Baylor forward Tristan Clark.
Selden headed overseas?
After three seasons of playing in the NBA, former Kansas guard Wayne Selden Jr.'s next contract is expected to take him to the other side of the world.
Jeff Goodman of Stadium reported on Monday Selden is on the "verge" of signing a contract with Shangdong, in China, "worth close to $3.5 million."
A free agent this summer after splitting time this past season with Memphis and Chicago, Selden averaged 6.9 points, 2.4 rebounds and 1.5 assists in 2018-19. He shot 31.6% from 3-point range, making 55 of 174 attempts and shot 40.6% from the field overall, while averaging 19.2 minutes a game and appearing in 75 contests.
Selden went undrafted in 2016 after playing three seasons at KU. Since then he has played for New Orleans, Memphis and Chicago in the NBA. Selden has played in 124 games overall, averaging 7.3 points and shooting 34.3% from 3-point range.