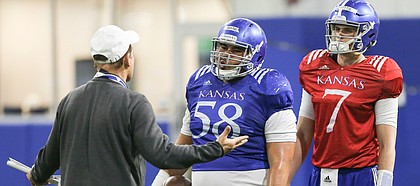 Editor's Note: With KU football's preseason camp now under way and the start of the 2019 season less than four weeks out, it's time to start sizing up how the Jayhawks will fare under new head coach Les Miles. History has shown us that there are generally two camps this time of year, the optimists and the pessimists. Here's a glimpse at what the pessimists might be thinking today. Check tomorrow for the optimist's point of view.
I don't know about you, but it sure would be nice to know a little more about this Kansas football team heading into a critical 2019 season.
Maybe that knowledge wouldn't actually do much. Maybe it's better to have a few surprises, a low bar and very little information about what kind of team Kansas will field this fall.
After all, haven't we become pretty accustomed to knowing exactly what would go down at David Booth Kansas Memorial Stadium year after year for the past decade?
And isn't it fair to be bracing for more of the same this season, even if the hands that cover your head are wearing diamonds and gold?
Exhausted is the Kansas football fan who has continually found a reason for hope each August for the past 10 years.
You know the type. Maybe you even are one. And if you are, my condolences.
New players, new coaches, new hopes, new dreams. All of it has been a regular part of riding the Kansas football wave of late, and that swell has not crested beyond the four-win mark in a decade.
So why would anyone expect things to be any different this year?
Sure, Les Miles is a proven head coach who has accomplished some big things during his career. But he also has been out of coaching for the past two seasons and didn't exactly set the world on fire his final couple of seasons at LSU.
Beyond that, the Big 12 is a whole different animal than the SEC, and it's only fair to expect Miles and his coaching staff to endure some kind of a learning curve on the journey to where they want this program to be.
Pooka Magic is great. And it was a lot of fun last season. But even then, when teams and defensive coordinators had no idea what was coming, his electric runs and tremendous talent only helped the Jayhawks record three wins.
How much better can we expect him to be when KU's opponents have had an entire offseason to prepare for him?
And then there's the quarterback quandary. Carter Stanley's a heck of a competitor and an even better guy, but we've seen his ceiling. And if that winds up being better than what newcomer Thomas MacVittie can bring to the huddle — in Week 1 or at any point during the 2019 season — we probably already know how this movie ends.
The defense has some bona fide playmakers, but not enough of them play close enough to the line of scrimmage for it to matter. This KU secondary should be one of the top two or three defensive back groups the Jayhawks have fielded since Mark Mangino left town, but that will only matter if the guys up front can stop the run and rush the passer.
If they can't — and we genuinely do not know this answer yet — then we're staring down the barrel of a season of Bryce Torneden and Mike Lee leading the team in tackles. Both are great players and as tough as they come. But KU fans, coaches and players should not want either leading the team in takedowns.
The addition of Les Miles is a big deal. And, in time, it should matter. It's just hard to picture that time being now.
Miles, like everyone else who has ever come through this program, is probably going to have to take a few lumps before things start looking up.