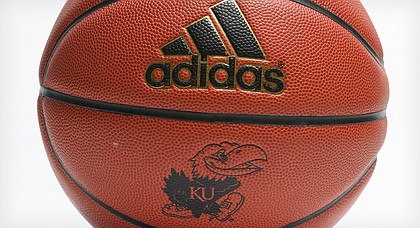 After a wait of roughly 19 months, the signatures on the contract extension between Kansas Athletics and Adidas are now dry.
As a result, KU owns one of the largest apparel deals in college athletics, a 14-year, $196 million agreement that extends to 2031 and keeps alive a partnership first formed in 2005.
KU Chancellor Douglas A. Girod and Athletic Director Jeff Long announced the new deal on Wednesday morning via news release.
The updated agreement, which has been signed and is listed to have kicked in during the 2017-18 academic year, more than doubles the average annual value of KU's previous deal with Adidas, a six-year extension signed in 2013 that followed the original eight-year contract.
Related document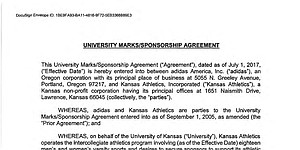 KU-Adidas University Marks/Sponsorship Agreement (2019) ( .PDF )
Related document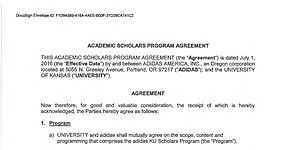 KU-Adidas Academic Scholars Program Agreement (2019) ( .PDF )
"Chancellor Girod and I, and our staffs, did a very thorough vetting of Adidas and what they were offering us," Long said. "And after extensive conversations and commitments and meetings, we arrived at the decision that this was the best partnership for Kansas Athletics and the University of Kansas going forward. … We're excited about this agreement. We believe it's one that benefits both athletics and academics."
According to numbers from a recent report from Forbes.com, the new package would put Kansas at the top of the list of most lucrative apparel deals in college athletics.
In 2018, Forbes listed UCLA's $13 million annual deal with Under Armour as the richest. Louisville and Adidas, at just under $11 million per year, and Texas and Nike, at just under $10 million annually, rounded out the top three.
"I think that speaks to the brand of not only Kansas Athletics but also the University of Kansas, as well," Long said during a conference call with local media members following the release. "Our goal was not to go into this to get one of the highest (deals), but we did expect that our brand and our success and our university would command among the highest."
According to Forbes, KU's previous deal ranked 14th in 2018.
The latest contract with Adidas also includes a commitment of $500,000 annually to a new academic endeavor known as KU Adidas Leadership Scholars, dubbed by the university as "an academic enrichment program designed to enhance participating students' educational experience at KU."
Girod said the move "strengthens our university and better enables us to fulfill our mission in education, outreach and research."
Wednesday's announcement brought to a close a wait that stretched nearly two years after KU and Adidas agreed to and announced a similar extension of 14 years at $191 million in September of 2017, just before news broke of the FBI's investigation into corruption in college basketball recruiting.
That investigation, which later brought KU into the fold through a superseding indictment filed in April 2018, left the contract extension between KU and Adidas unsigned until recently.
Associate Athletic Director Jim Marchiony said the difference in the two total values — $191 million in September 2017 and $196 million today — was merely a reflection that the negotiations were not complete at the time the extension was announced in 2017.
"When the indictments came out that fall, it caused us to pause and refocus on the negotiations," Long said Wednesday while adding that KU moved to finalize the contract after carefully looking at its partnership with the apparel company that has been at the center of the FBI's investigation.
"There've been many, many conversations, discussions, meetings to address those things," Long said. "We have commitments from Adidas to work with us, to help change the nature of college basketball. … We spent months, months and months discussing (that) and believe we have a strong commitment from Adidas to work with us to make that college recruiting environment better."
One clause in the contract titled, "Rights of Termination," spells out that Adidas can terminate the contract if "any Coach or Team is suspended or otherwise subjected to major disciplinary action by the NCAA."
Adidas also has the right to terminate the contract if "the Football or Basketball coach" or "Kansas Athletics or university" engage in activities that bring negative national exposure or have "a material adverse effect upon the status or reputation of Adidas."
In that same section, the agreement states that Kansas Athletics can terminate the contract if Adidas "engages in conduct that attracts national publicity which, based on objective evidence, has a material adverse effect upon the status or reputation of Kansas Athletics or University, as determined by University in its reasonable discretion."
"That cuts both ways," Long said.
According to the contract, KU will receive $11 million in base compensation in both the 2019-20 academic year and the 2020-21 academic year.
From there, the base compensation figure dips to between $4 million and $5.3 million for the remainder of the contract.
Long said those details were planned prior to the fall of 2017.
"I think there was some anticipation there of needing some additional cash at the beginning of this agreement and then spreading it out across the rest of the agreement," Long said.
Given that the initial extension was announced on the same day that former KU athletic director Sheahon Zenger unveiled preliminary plans for major renovations of David Booth Kansas Memorial Stadium, it's entirely possible that the "additional cash at the beginning" that Long spoke of Wednesday was earmarked for stadium improvements which have since been put on hold.
However, Long noted that the new agreement also "provides resources to invest in our football program and the future renovation of Memorial Stadium."
Of the $14 million average annual value, Long said $6.5 million was pegged for product allowance for KU's 18 varsity sports, with another $1 million going toward product marketing. That $7.5 million total is up from the previous value of just under $3 million for similar services.
Although Long said the goal all along was to complete the deal and stay with Adidas because of KU's longstanding relationship with the company, he added that KU did listen to other pitches from other apparel companies, none of which were named.
"We did check out all of those that were interested in the University of Kansas," Long said. "Any time you enter into a contract of this nature and this length and this monetary reward attached to it, we did our due diligence, we went through all the options that were available to us, explored everything and arrived at the decision that Adidas was the best option for us."