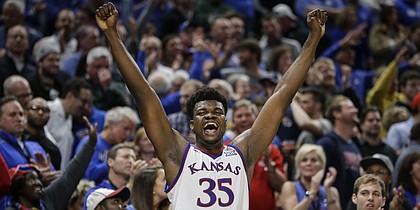 For the second year in a row, the Kansas men's basketball program got some good springtime news from its biggest player.
Udoka Azubuike, KU's 7-foot, junior center who missed all but nine games of the 2018-19 season with torn ligaments in his right wrist, is returning to Kansas for his senior season.
KU coach Bill Self announced Azubuike's return Monday afternoon via news release.
"We're all very excited about Udoka making the decision not to enter the draft," Self said in the release. "Unfortunately for him, injury is the reason, as he still cannot participate in the NBA combine or workouts for NBA teams. We really anticipated that this would be the year he would enter the draft, but that was also based on him having an injury-free year."
Azubuike explored his pro prospects a year ago, initially declaring for the draft and attending the NBA combine before deciding to return to Kansas on June 1, 2018.
This year's deadline for underclassmen to enter their names into the 2019 NBA Draft arrived at 10:59 p.m. Sunday night without an announcement from Azubuike or KU.
As a result, Twitter was abuzz throughout the day Sunday, with KU fans waiting to hear from Azubuike.
The hashtag "UdokaWatch2019" was a popular place to mine for information, and KU fans and media members continually checked in about the decision throughout the day Sunday and into Monday.
For a program that has seen several departures since the end of the season — Charlie Moore (DePaul) and K.J. Lawson are transferring out and Dedric Lawson, Quentin Grimes, Devon Dotson and Silvio De Sousa all have tossed their names into the draft pool, with the option to come back — the return of arguably the toughest individual matchup in all of college basketball is a monster lift for the Jayhawks heading into the offseason.
Azubuike, who is expected to return to full basketball action this summer, is a sure-fire starter, a likely preseason all-Big 12 pick and potentially more.

"If he's healthy, he automatically becomes the leading candidate for player of the year in the Big 12," ESPN broadcaster Fran Fraschilla told the Journal-World shortly after Azubuike's news. "That's a given. All you have to do is look at where Kansas was last year with Udoka on Jan. 4, the Friday practice before they left for Ames, Iowa. They were 12-1 and they were a Top 5 team at that time."
It was that Friday, during practice, when Azubuike tore ligaments in his right hand and wrist, an event that kept him out of the Iowa State game and eventually ended his junior season.
According to Self, the injury was the exact same one he suffered in his opposite hand two years earlier, and it paved the way for the idea of Azubuike returning for Year 4 to even enter the picture.
The two wrist injuries are among four significant health setbacks Azubuike has battled during his time with the Jayhawks.
The first wrist issue, which hit in late December of his freshman year, cost him all but 11 games of his rookie season.
During the 2016-17 team's run to the Final Four, Azubuike lost most of four postseason games because of a serious knee injury that hit just before the Big 12 tournament.
Then, during his junior season, the native Nigerian suffered a severe ankle sprain a few weeks in, and missed nearly five full games while rehabbing that ailment, only to have the second wrist injury surface less than a week after his return to the court.
"Udoka knows that he still has some unfinished work left in college and at the University of Kansas," Self added in the release. "And he has let us know that he is very excited about the potential for next year's team and the role in which he would have. I am sad he got hurt but happy for our program because if things fall the way that we think they could potentially fall, this is a big piece to anchor what could be a real fun year next season."
Last week, at KU's season-ending team banquet, Self told Azubuike in front of a crowd of more than 500 KU supporters that the program would always have the big man's back.
"I tell Dok this all the time and I do believe this," Self said at the banquet. "He's going to get the last laugh on everybody. But his attitude's gotta stay great and I thought his attitude was unbelievable. And, Dok, just hang in there and whatever you decide to do you've got us, no matter what. Love ya. And you'll get the last laugh."
Azubuike's return, which, like Devonte' Graham's two years ago, could wind up being KU's biggest "recruiting" victory of the offseason, gives the Jayhawks some stability in both their front court and the starting lineup.
Before even adding a single big man in the 2019 recruiting class, KU now has Azubuike, senior-to-be Mitch Lightfoot and sophomore-to-be David McCormack up front. Beyond that, KU could be getting De Sousa back, if his appeal of an NCAA suspension is granted, and may look to add another forward or two on the recruiting trail.
Azubuike's numbers in nine games this season — 13.4 points, 6.8 rebounds on 70.5 percent shooting — were on par with his career averages (11.5 points, 6.4 rebounds, 74 percent in 56 games), and his experience on just about any stage imaginable should bring added confidence and maturity to a young KU roster that could include as many as six or seven new faces by the time the team reports to campus in August.
"This is a sunny day for Kansas fans," Fraschilla said. "Udoka's not only a great kid that's easy to root for, but, when healthy, he's a dominant low post player. He really is. In the Big 12 in recent years, usually a guy that's that dominant is gone after one year. But because of the injuries, he's back again. This is almost a godsend for Kansas. This is just what they needed."