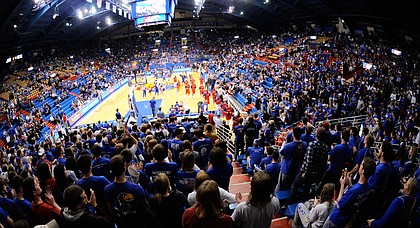 The Kansas basketball program is losing the man responsible for the Jayhawks' consistently strong showing in the strength of schedule rankings.
Larry Keating, an administrator who has served in various roles at KU since 2003, announced his retirement on Monday after five decades in intercollegiate athletics.
"Losing a resource like Larry is certainly not a great thing for us," KU men's basketball coach Bill Self told the Journal-World on Monday. "But we should congratulate him on retirement, too. He's certainly earned that right for being in the business so long. He's been very instrumental behind the scenes in putting our program in the situation to be as well thought of as what it has been throughout the years due to his ability to schedule."
Keating came to KU from the Metro Atlantic Athletic Conference (MAAC), where he served as Assistant Commissioner for Basketball/Football. At the MAAC, Keating was responsible for conference scheduling, the MAAC Basketball Tournaments, officiating and television coordination. He served as Tournament Director of the 2003 NCAA Division I Men's Basketball East Regional in Albany, N.Y.
Prior to that, he spent 12 years as the Athletic Director at Seton Hall, during which time the Pirates participated in six NCAA Men's Basketball Tournaments. That included Seton Hall's first-ever appearance (1988) and the Pirates' run to the championship game of the 1989 NCAA Final Four.
"First of all, Larry has more real experiences than just about anybody that I've ever been around," Self said. "When you stop and think about his time as a coach, a conference administrator, a school administrator or when he was the athletic director at Seton Hall when they went to the national championship game, the guy has seen and done it all."
Since taking over schedule-making duties at Kansas, Keating has used his magic touch to deliver the toughest schedule in the country on numerous occasions, a fact that has both bolstered the Jayhawks' resume for the NCAA Tournament and made KU as battle-tested as any program out there entering postseason play.
In the past 15 seasons, KU's strength of schedule has ranked No. 1 four times, No. 2 two more times and in the Top 10 on eight occasions.
"Even though we have final say in who we play, Larry has been so good at working with television networks to help with putting together the best possible schedule," Self said.
Self said he was unsure of who would take over the role in Keating's absence but added that he was not worried about KU's future schedules because of the way Keating always conducted things from his desk at KU.
"He has us very organized," Self said. "And I know he will pass along how it's been done in the past. Whoever gets it will take on a bigger project than they'll anticipate, but Larry's so organized that I have no doubt that it'll be a smooth transition."
Said KU Athletic Director Jeff Long in a press release announcing Keating's retirement: "Larry Keating is known throughout college athletics, and has been serving universities, conferences, athletic departments, student-athletes and coaches for 50 years. Larry and his wife Jaime will be greatly missed throughout the university, athletic and Lawrence communities. Everyone who knows Larry — and that's a lot of people — has a great story to tell about him. I want to thank Larry, on behalf of myself and the previous two KU athletic directors he worked with, for his service to KU, our student-athletes and coaches. We wish him nothing but birdies on the golf course and happiness in whatever he and Jaime choose to do next."