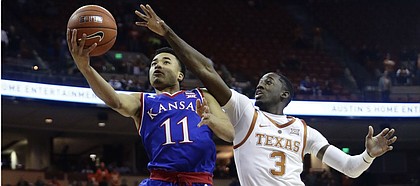 Add another Jayhawk to the list of players testing the waters for the 2019 NBA Draft.
Freshman point guard Devon Dotson on Friday announced on Twitter that he was planning to "test the waters and enter into the 2019 NBA Draft process."
Unlike teammates Dedric Lawson and Quentin Grimes, who declared earlier this week, Dotson revealed that he planned to retain his "complete college eligibility" while doing so.
Because of that language, the likelihood of Dotson returning to KU next season remains higher than those other two. But if he goes to the pre-draft combine in Chicago and gets good feedback, it's entirely possible that he, too, could be gone next season.
In 36 games with the Jayhawks during his freshman season — all of them starts — Dotson averaged 12.3 points, 3.7 rebounds and 3.5 assists per game while running the offense and playing big minutes almost every night.
His relentless style and unmatched speed with the ball often gave KU an advantage at the point guard position, and the third team all-Big 12 selection who also landed on the Big 12's all-freshman team often was said to be well ahead of the pace of former KU greats Frank Mason III and Devonte' Graham.
Now, it remains to be seen whether Dotson will get a chance to add to his KU legacy.
"Devon had a great freshman season that probably put him ahead of schedule of where we thought he would be at this juncture of his career," KU coach Bill Self said in a statement released Friday afternoon.
New rules allow underclassmen to work with agents leading up to the draft. In order to do so and retain his college eligibility, Dotson must first request and receive an evaluation from the NBA Undergraduate Advisory Committee.
Such a move would allow him to work with an agent — who must be certified by the NBA Players Association — through the pre-draft process and still return to school provided he pulls his name out of the draft pool by the May 29 deadline.
The second option that would allow him keep his KU eligibility while still working with an agent would be in place all the way through the draft but would require two things following the June 20 draft. First, he would have to go undrafted. Second, if he does not get picked and wants to return to KU, he then would have to sever all ties with his agent before returning to Kansas.
It remains to be seen how all of this plays out, but at least in Dotson's case this seems a little more exploratory. Rather than sit back and work to improve on his own, Dotson is entering into the draft process so he can get feedback on what exactly he needs to work on and what NBA teams are looking for from him be it now or in the future.
"I've had multiple discussions with Devon and his family, talking not only about the season but where he stands with his basketball future," Self said in the statement. "They felt, and I do not disagree, they could gather more information on exactly where he stands in the eyes of the NBA if he were to declare and get as much feedback as he possible can. They made it very clear to me that in no way, shape or form is he saying goodbye or is he going to compromise his collegiate eligibility in order to get that information. He will follow the guidelines the NCAA and NBA have put forth to allow him to sign with an agent to get feedback and make the decision. We support their decision. Although we wish him the very best in his preparation for this, we also believe there is a great chance that he'll have a tremendous sophomore season at Kansas."
If Dotson stays in the draft, KU then would have five open scholarships to fill and just four players returning from last season's rotation — Ochai Agbaji, Marcus Garrett, Mitch Lightfoot and David McCormack.
The future for KU big men Udoka Azubuike and Silvio De Sousa remain question marks, as well, with Azubuike expected to move on as well and De Sousa still awaiting word about his appeal of his two-year suspension by the NCAA.
The spring signing period opens Tuesday and next week is a big week for two of the top remaining prospects on KU's wish list, with 4-star shooting guard Cassius Stanley expected to announce his decision Tuesday and Top 10 forward Matt Hurt slated to reveal his choice on April 19.