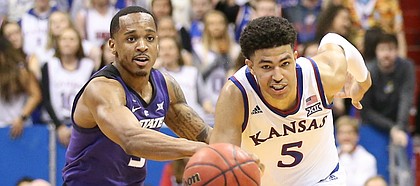 Dubbed a one-and-done player and potential lottery pick when he signed with Kansas in November of 2017, freshman guard Quentin Grimes made that fate official on Wednesday, when he announced on Twitter that he was declaring for the 2019 NBA Draft.
In a post that thanked his parents, the Kansas coaches, KU's managers, academic advisors and training staff and, of course, the Jayhawk fans "for always bringing The Noise," Grimes said simply, "At this time, I would like to take the opportunity to announce that I am declaring for the 2019 NBA Draft. I am looking forward to the next steps of my basketball career."
Moments after Grimes' announced the news on Twitter, KU coach Bill Self offered the following thoughts on Grimes' decision via a press release.
"When we recruited Quentin we knew the chances would be great for him to have the opportunity to declare for this upcoming NBA Draft," Self said. "Quentin started every game for us and was a key performer in the success we had this past year. As a freshman he went through some highs and lows that, no doubt, will be great preparation for him moving forward. He has represented himself, our school and his family in a manner in we all can be proud of and our entire basketball community should wish him the very best moving forward."
In 36 games with the Jayhawks this season — all starts — the 6-foot-5 freshman from The Woodlands, Texas, averaged 8.4 points and 2.5 rebounds per game while consistently searching for his breakthrough moment.
Many believed it came in his KU debut, when Grimes hit six 3-pointers in KU's season-opening victory over Michigan State at the Champions Classic, but the big, athletic guard never seemed to find his complete rhythm as the season went on.
Asked after the season if his inability to find his flow caused him to scratch his head, Grimes admitted to being caught off guard.
"Yeah, I definitely was surprised, just knowing what I can do and my skill set and everything," he told the Journal-World. "But it's just a learning experience. You grow from it and learn from it and it's definitely going to make me a better player. It's tough just kind of knowing what you can do and everything you have inside of you and what you've worked for. But you can't worry about that. You have to keep focusing on you and bettering yourself and just do what you can for the team."
Grimes' ability to do just that was one of the biggest things he took away from his one season with the Jayhawks.
He told the Journal-World that his mental toughness and ability to handle his slumps and the criticism from the outside world was one of his favorite parts about his freshman season.
"I was focused and sharp the whole time and never really got down," Grimes said. "And I had a great support system, with my parents and a couple other people, and I feel like I kind of matured as a person and as a basketball player just going through that."
What Grimes will go through next figures to be an entirely new and likely even more difficult challenge than his adjustment to college basketball.
But the combo guard who shot 34 percent from 3-point range and 38.4 percent from the floor in 988 minutes at Kansas said his ability to grind through a tough 2018-19 season has him confident that he can do anything in the future.
"It's a wild thing, just figuring it out, and it was kind of crazy going through the whole season (that way)," he said. "But I feel like I have a stronger mind and stronger mental state from going out there in tough games and things like that."
Grimes becomes the fourth player from KU's 2018-19 roster to announce his intentions to play elsewhere during the 2019-20 season.
Sophomores Charlie Moore and K.J. Lawson have entered the transfer portal and will look for another school to continue their careers. And junior forward Dedric Lawson announced he was turning pro earlier this week.
Grimes' departure opens up yet another scholarship for Kansa to use in the 2019 class, which is becoming more and more important — not to mention bigger — by the day.
KU coach Bill Self and company now have four scholarships available to hand out on the recruiting trail in addition to Class of 2019 signees Christian Braun and Issac McBride, guards who signed with Kansas in November.
Grimes did not indicate whether he was hiring an agent in his announcement on Wednesday. But all indications from people close the program seem to believe this is the end of the road for Grimes at KU.
Grimes has been on and off of mock drafts throughout the past several months, surfacing only as a mid-to-late second-round pick on the mock drafts in which he has appeared.
He does not appear on either ESPN.com or SI.com's latest two-round, 60-pick mock drafts and is ranked No. 80 on ESPN.com draft guru Jonathan Givony's list of the Top 100 draft prospects entering April.
Even if he does hire an agent, Grimes' could retain his college eligibility in a couple of ways.
The first kicks in if he requests and receives an evaluation from the NBA Undergraduate Advisory Committee. Such a move would allow him to work with an agent — who must be certified by the NBA Players Association — through the pre-draft process and still return to school provided he pulls his name out of the draft pool by the May 29 deadline.
The second would allow him to retain his representation all the way through the draft but would require two things following the June 20 draft. First, he would have to go undrafted. Second, if he does not get picked and wants to return to KU, he then would have to sever all ties with his agent before returning to Kansas.