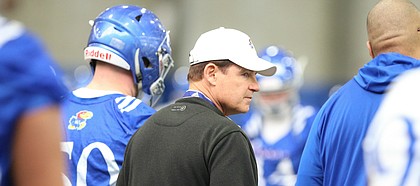 Les Miles isn't particularly interested these days in sharing vivid details of what goes on during his Kansas football team's spring practices.
But during a brief session with media members on Tuesday evening, KU's head coach provided some particulars of the format fans can expect for the spring game on Saturday night at David Booth Kansas Memorial Stadium.
The Jayhawks, Miles shared, spent their latest practice — the 12th of the spring — gearing up for what the athletic department is now calling Late Night Under the Lights.
"There were several points of emphasis. And it seemed to me that the offense took control a little bit of the time. And the defense in the back end did exactly the same thing," Miles recounted of Tuesday's practice. "So the ebb and flow, I like that about our team. There was competition. We got what we needed to get accomplished."
Of course, Miles and his staff hope to see the players carry out even more during the program's quickly approaching fan-friendly scrimmage.
The first-year KU coach said at this point the team is still in development mode, but he also gave some hints of what he'd like to see out of his players this coming Saturday evening.
"There'll be core pieces — how the line plays on both sides of the ball, how the secondary defends, how the offense turns and throws," Miles said. "So those things. It's going to be rudimentary. It's not going to be all of the bells and whistles, I promise. But it will be something that we need to see. We'll need to perform."
As is typically the case for such exhibitions — what with coaches not wanting to give away anything about their schemes to upcoming opponents — the play-calling for KU's spring game, Miles assured, will be vanilla on both sides of the ball.
"That's exactly what I'm going to do. So vanilla. There'll be no chocolate in it," Miles declared. "No sprinkles. Nothing."
Nor will there be a traditional format, such as dividing the roster up for a Crimson versus Blue type of scrimmage.
"One team's gonna play on defense and one team's gonna play on offense," Miles replied, when asked how teams would be determined for the spring game.
"We want our guys to play together," he said of the offensive and defensive units that have spent the past several weeks working in tandem. "We're not going to divide them up and make a third-teamer play next to a first-teamer and the first-teamer kind of respond and need to have him do certain things. So we want to make sure that we're able to perform and do the things we're capable of doing."
The configuration of the spring game, Miles added, will allow coaches to put the players in specific situations, as well.
"It'll be first defense versus first offense most of the time," Miles shared.
KU's spring game is scheduled to begin at6 p.m. on Saturday. It will be available to stream on ESPN+ and broadcasted locally and throughout the state on various cable platforms.