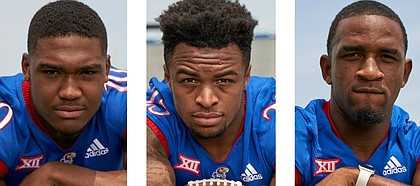 In the opening week of the season, the Kansas offensive line looked exactly like what it was — a collection of strangers thrown together at the last minute. Multiple bad snaps and general lack of cohesiveness made it look as if the unit had gone backward, if anything, from last season's rough times.
Two weeks later, things looked a whole lot different.
The behemoth blockers were proud owners of a 400-yard rushing day in Saturday's 55-14 victory against Rutgers.
"It's good," said right tackle Kevin Feder, a graduate transfer from Ohio State, "but we need 500. It's good to see those numbers on the field, but every single week, we'll be striving to get more."
Feder was recruited to Ohio State by former Kansas offensive coordinator Ed Warinner, but suffered a foot injury that dogged him throughout his redshirt and freshman seasons at Ohio State. He was cleared to play last season, but was too far down on the depth chart to get into games and decided to play his final two seasons of college football at Kansas after earning an Ohio State degree in three years.
Ask any offensive lineman whether he enjoys passing-blocking or run-blocking more and he'll pick the latter, because it's an aggressive act, not one designed at preventing something.
"I love all aspects of playing offensive line," Feder said. "Coming out of high school, I was a defensive lineman. I was a nose (tackle), so I kind of always was into getting in there, getting dirty and plowing people over. So the run game to me definitely feels a little bit more natural."
The shift toward a run-heavy offense has been a good one for KU's O-line as it develops chemistry.
Plus, having backs so quick at hitting the hole lets the blockers know their work will be rewarded.
"All of our backs have done a spectacular job," Feder said. "Khalil (Herbert), Pooka (Williams), Dom (Williams), all three of them. We've got some explosive backs. As long as we do our jobs up front as an offensive line, give those guys holes in the backfield and let them go into space, it's going to be looking good for us offensively."
Feder spoke to the explosiveness of Pooka Williams, who in just two games, has rushed for 283 yards, six more than Oklahoma State's Justice Hill in three games.
"I've seen a lot of explosive guys, but man, that kid Pooka, he can go," Feder said. "We give him a hole and he'll take off. I mean, (offensive line) coach (A.J.) Ricker tells us every single day, we give Pooka a hole to run through, we're going to be a happy offensive line with some good yards behind our backs throughout the season. He's fast. That kid's very impressive with his speed and his vision."
Feder, left tackle Hakeem Adeniji and right guard Dwayne Wallace have started all three games. Andru Tovi started the first game at left guard, the past two at center. Malik Clark has made two consecutive starts at left guard.
Alex Fontana, who had troubles snapping the ball as a Week 1 starter, has provided quality depth without the snap troubles resurfacing. Chris Hughes has played a lot in reserve at right guard and Api Mane has done the same at left guard. Clyde McCauley has supplied depth at left tackle, Antione Frazier at right tackle.
"Being able to rotate the inside three more and rotating Hakeem and me out here and there, not that we necessarily need it, but for just a little breather so that, by the time the fourth quarter comes, a lot more guys are fresher and, at the end of the game, we have a lot more battery life compared to being all the way withered down at the end of the game," Feder said. "We've got the depth to do it."
Feder, Wallace, Fontana and Mane are in their first seasons in the program.
"We had little mixups the past couple of weeks, and we showed today throughout the entire offensive line that we have made improvements," Feder said after Saturday's victory. "If we can continue to go at this pace to fix those little mental errors here and there, we're going to be in good shape for the rest of the season."
Feder had a couple of preparation advantages going into the Rutgers game. A native of Ramsey, N.J., he had played against several Rutgers players in high school, including the man he was matched up against, redshirt senior Kevin Wilkins, for much of the game.
Plus, Rutgers had played Feder's old school, Ohio State, the previous week.
"I talked to a whole much of my buddies I used to play O-line with and got a little inside scoop wherever I could," Feder said.
Thanks to the program's first two-game winning streak since the first two games of the 2011 season, KU can open Big 12 play with confidence that it can compete on the road against Baylor, a 9-1/2-point favorite.
"We're going to keep going and use this momentum to fuel us for the next game," Feder said.