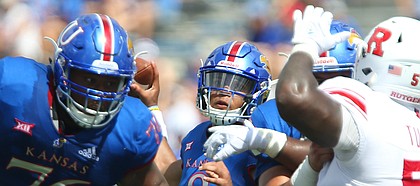 As various Kansas football players made their way Saturday afternoon to media interviews inside the Chancellor's Lounge at Anderson Family Football Complex, a horde of reporters and television cameras encircled the table where Miles Kendrick sat.
"All the lights on ol' Miles," KU redshirt senior linebacker Joe Dineen observed, as he sauntered past the backup quarterback.
Head coach David Beaty planned all along to use Kendrick in every game this season. Just three weeks in, though, the dual threat sophomore reserve played more than senior starter Peyton Bender in the Jayhawks' 55-14 thumping of Rutgers.
Bender, who completed 8 of 12 passes in the first half for 73 yards, with no interceptions or sacks, watched the entire second half from the sideline. Kendrick handled all of the KU offense's third-quarter snaps before the coaches emptied their bench with the game all but decided in the fourth quarter.
Beaty didn't say it signaled a passing of the torch, but he wouldn't say whether Bender will start KU's next game, at Baylor, either.
Even though he seemed to have everyone's attention, it wasn't as if Kendrick, who completed 6 of 11 throws for 66 yards and a touchdown and ran the ball six times for 38 yards and a TD, thought he accomplished anything spectacular.
"I feel like I did all right," the 5-foot-10, 200-pound sophomore from Morgan Hill, Calif., replied, when asked to grade his performance. "Of course there's going to be a lot of things I could improve on, but I feel like that's the best part — we can get much better. So it's exciting."
Same as his first two starts this season, Bender did not throw an interception versus Rutgers. When asked, the senior QB, who has completed 60.3 percent of his 73 passes this season for 390 yards and three touchdowns, said he wasn't sure whether anything in particular he did in the first half Saturday led to KU turning to Kendrick to close out the win.
But Bender said two of his four incompletions in particular came to mind. The Jayhakws (2-1) already led 10-0 early in the first quarter when Bender, on the offense's second possession, failed to score a touchdown in the red zone. On consecutive snaps from the RU 19-yard line, Bender missed on throws to open receivers Stephon Robinson and Steven Sims Jr.
Related document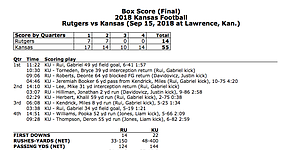 "The one to Stephon was a little high and the one to Steven was a little high, as well. It just got away from me a little bit," Bender said. "I don't know if that inspired their decision or not. I thought I was playing a pretty clean game to that point, taking care of the football. It's not in my control what (coaches are) going to do. I just have to be ready for anything. If my number's going to be called then I've just got to be ready."
Bender opened the next offensive series back at QB, but Kendrick made his first appearance of the nonconference finale on the same drive, once KU ventured inside Rutgers' 10-yard line.
After a 3-yard rush and an incompletion on his first two snaps, Kendrick floated a TD pass over a defensive back and into the hands of KU senior receiver Jeremiah Booker near the back left corner of the north end zone inside David Booth Kansas Memorial Stadium.
"It was awesome. Unreal feeling," Kendrick said of his first touchdown as a KU QB. "I remember as a kid dreaming of moments like this. Dreaming of being at a Division I college and contributing to team wins."
Kendrick returned to his spot in the shotgun formation for KU's fourth possession, which ended with Rutgers blocking a Gabriel Rui field goal attempt for the second time in the first quarter.
Photo Gallery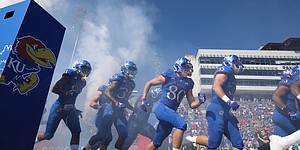 KU football vs. Rutgers
Kansas improved to 2-1 on the season with a 55-14 rout of Rutgers at David Booth Kansas Memorial Stadium on the day Todd Reesing's name joined the program's Ring of Honor.
Bender played QB each of the next two series, both of which ended in punts, before Kendrick handled the offense for the next seven possessions, extending KU's 10-point lead to 27 by the end of the third quarter.
Based on what KU's coaches told Bender at halftime, he wasn't sure whether he would play in the third quarter or not.
"My number wasn't called but it was nice to see the offense still operate and continue to move the chains with Miles in there," Bender said. "They did a great job taking care of the football and running offense."
At halftime, Kendrick said, the coaches told him he would get a series to open the third quarter and then "see where it goes" from there.
KU possessed the ball for 10:43 of the third quarter, picked up five first downs and scored 10 points.
According to analysis from Pro Football Focus, Kendrick received a grade of 76.9 on his 40 snaps against RU (1-2), while Bender had a 51.4 grade on 23 snaps.
Beaty explained afterward why Kendrick, who played a clear backup role in the previous two games, became a much larger part of the game plan in Week 3.
"We knew that it was going to take us a little bit of time to get him ready from a procedural standpoint in a game. And it did. But I thought he really improved from last game to this game procedurally. He managed the clock well," Beaty said.
Kendrick has completed 9 of 15 passes for 93 yards with one touchdown and no interceptions this season. He also has 12 carries for 43 yards and a TD.
Bender admitted at an earlier stage in his football career, he would have been irritated by a situation in which he was rotating back and forth out of the lineup. In fact, that was his reaction when he alternated starts and even series for his entire junior year at Cardinal Gibbons High, in Fort Lauderdale, Fla. But now, as a redshirt senior at KU, he said he wants to win more than anything.
"You want to be on the field, you want to be playing, you want to be the guy. But, you know, as long as we're winning and everyone's playing well then it's a ton of fun," Bender said of his mindset after spending the second half out of the action. "It's just a great atmosphere around the facility all week when you're winning. Any way we can get it done I'm all for it."
Asked about Bender's even keel approach to the QB situation, Kendrick said they bring the best out of each other.
"Whatever quarterback's out there has to take care of the football, not turn it over, make the right reads to put the team in position," Kendrick said. "That's just the main goal."
Through three weeks, KU's offense has lost just one turnover, a close-call fumble lost by Bender against Nicholls State that wasn't overturned by video review. On the strength of 13 KU takeaways (seven interceptions and six fumble recoveries), the Jayhawks lead all of FBS with a plus-12 turnover margin (plus-4.0 per game) headed into their Big 12 opener this coming Saturday at Baylor (2-1).
Whether Bender or Kendrick will start at QB in Waco, Texas, likely will remain private until the game kicks off at 2:30 p.m.