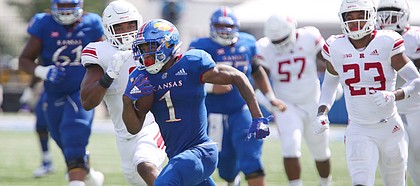 If you feel like you learn something new every day about Anthony Williams Jr., better known as Pooka, don't consider yourself out of the loop. Even fourth-year Kansas football coach David Beaty forever picks up fresh material about the sensational running back.
Beaty revealed after Kansas clocked Rutgers, 55-14, Saturday that his knowledge of Pooka's football foundation grew on the short morning bus ride from the team hotel in Olathe to David Booth Kansas Memorial Stadium.
"I asked him: 'Where did you get your football aptitude at?' And he talked about his dad made him study," Beaty said. "When most kids were out playing, they were watching video and watching tape about where is his primary key and where is his secondary key. And that was something that we start hearing him talk about, how he's looking and what he's looking at and for a young guy that's not, that's not usually normal. He plays with a lot of football aptitude."
Anthony Williams, Sr., take a bow. You're a good football teacher and your son is a football prodigy, a fast learner and runner.
Related document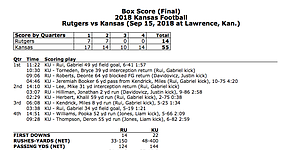 Pooka did it again Saturday, transforming a Kansas offense that too often for the past several years had the entertainment value of C-SPAN into thrill-packed, must-see viewing, even though only 28,044 spectators decided to show up on such a sunny day.
The most talented of a strong stable of running backs, Pooka rushed for 158 yards, 52 coming on his third touchdown in two weeks.
He was far from alone in lighting up the crowd. Khalil Herbert popped a 59-yard touchdown run on his first carry, Deron Thompson a 55-yard TD sprint. Dom Williams looked good, and KU rushed for 400 yards. Plus, defensive backs Bryce Torneden and Mike Lee made scoreboard spin with interception returns into the end zone.
Yet, there is no denying that the one player bringing even more improvement to this team than anyone is the 5-foot-10, 170-pound burner from Hahnville High, 20 miles upriver from New Orleans.
Kansas (2-1) is unbeaten in Pooka's two games and had gone 3-34 before his debut.
His teammates don't show any signs of jealousy over the attention he's receiving, and instead express gratitude for the changes he's bringing.
"He's done a lot for this team," said Miles Kendrick, who is sharing quarterback duties with Peyton Bender. "He's given us a lot of confidence."
Pooka's speed, his ability to reach top speed so quickly, his remarkable vision and ability to make sharp cuts at top speed stand out, but it's more than that, according to Herbert.
"Especially as a freshman, he understands, if you teach him the fronts, he's able to understand very quickly, pick it up, able to identify fronts and stuff like that," Herbert said. "Definitely surprised me. His IQ is off the charts."
That aspect of Pooka's brilliance was brought up repeatedly during the postgame.
Photo Gallery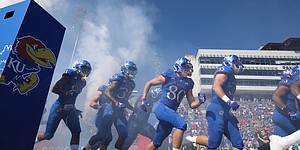 KU football vs. Rutgers
Kansas improved to 2-1 on the season with a 55-14 rout of Rutgers at David Booth Kansas Memorial Stadium on the day Todd Reesing's name joined the program's Ring of Honor.
"Pooka is a football player. He's an elite talent and like coach Beaty said, he has a high IQ," Kendrick said. "You can tell that he has a natural feel for the game. He sees things that a lot of guys don't see."
Two games into his career, Pooka has rushed 32 times for 283 yards, an average of 8.8 yards.
"I've been, all throughout camp, watching him," Kendrick said. "You knew something was kind of brewing up and that guy just wanted live action to let loose. The things he's doing right now on Saturdays, he's doing that every day of the week. We knew it. It was just a matter of us seeing it in real time and live action."
Dom (no relation to Pooka) Williams said what impresses him most about Pooka is, "how athletic he is, how calm he is out there. He's just a natural out there and he's a really, really good football player. And he's fast, really, really fast, hits that hole fast."
Still, could anyone have expected this much this quickly?
"Not right out of the gate," Dom Williams said. "I knew that he was good just based on fall camp and all the big plays that he was making, but for him to come out in the first two games and make this big an impact was good."
Beaty explained how Anthony Williams Sr.'s lessons taught to his son benefit Pooka.
"It's more of an advanced back that can get the things that he gets. So I think one of the things that he does so well is he basically works on stepping on the toes of the defender before he makes a cut," Beaty said. "A lot of people make that mistake and give a defender time and space. He steps on their toes before he makes his break. So he makes them commit."
Beaty used Pooka's move that freed him for the sprint down the left sideline for a 52-yard touchdown as an example of that.
"That was the difference in that run," Beaty said. "He made him commit and he's got the ability to step on him and still move laterally. Not everybody can do that. Some of that is just raw talent."
Herbert is so talented that he rushed for 291 yards in a loss to West Virginia last season before his season was slowed by a hamstring strain. Dom Williams missed time with a shoulder injury as a freshman.
Depth is vital at running back and Kansas has it.
"Having Dom, Pooka and me able to rotate, you always have fresh legs in there and we each are able to identify what's going on on the field," Herbert said. "It's going to help us out."
KU rushed the ball nearly twice as many times (48) as it passed (25), a shift in focus that won't hurt either. It's much more of a ground attack than an Air Raid, and with the help of the high-scoring defense, it resulted in KU's highest point total vs. an FBS school since the 12-1 2007 season when KU buried Nebraska, 76-39.