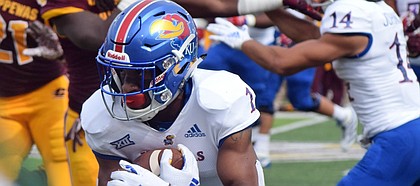 Mount Pleasant, Mich. — Debuting Kansas freshman running back Anthony "Pooka" Williams killed more than a nine-year road losing streak late Saturday afternoon, so far from his hometown of Marrero, La.
He also, at the very least, put on hold the apathy of a football fan base that had grown weary of the annual exercise of hearing all about talented newcomers during the spring and summer, only to be underwhelmed when the curtain came up on their KU careers.
In one afternoon and with just 14 carries, Williams set himself apart from that crowd by rushing for 125 yards and scoring a pair of touchdowns late in the third quarter on breathtaking sprints of 20 and 41 yards. He also turned his one reception into an 8-yard gain.
Williams has given Kansas football fans a reason to care, maybe even a sense of urgency to want to go see him perform in person. To do otherwise would be to run the risk of being left out of the conversation.
Saturday's 11 a.m. kickoff vs. Rutgers at David Booth Kansas Memorial Stadium represents the first opportunity to see Williams play at home.
Throughout camp, teammates and coaches portrayed the speedy back in a way they did not talk about anyone else on the roster. They called him "different" or "special" or "something else" and he showed why in his flashy debut.
One of five players on the roster with the last name Williams, Pooka joins Dom, Jack, Nick and Tekulve, but is the only one already referred to only by his nickname.
"That's what I've seen all camp," said redshirt sophomore guard Malik Clark of Pooka after also making the first start of his career. "He's a different type of human being when it comes to football. He's a freak of nature."
Teammates talked during camp of him not just zipping past and cutting around potential tacklers, but even jumping over one on a running play.
He finished his first touchdown Saturday with a high step into the end zone. On his second, a burner down the left sideline after he freed himself with a wicked cut, he was in danger of being knocked out of bounds just before the goal line and at the last instant jumped into the end zone.
He's a player who makes you watch his every move for fear you'll miss something if you blink. At this point, it's going to take a lot to surprise teammates.
"I saw this coming," senior quarterback Peyton Bender said. "He had a great fall camp. He showed exactly what he did today all fall camp. When he's in the game, he's a game changer."
For an undisclosed reason Kansas head coach David Beaty termed "non-disciplinary," Williams was not in the game for the season-opening, 26-23 overtime loss to Nicholls State in Lawrence.
The announced attendance for that game was 24,305. The crowd for the Rutgers game figures to be much bigger for a couple of reasons. For one, Todd Reesing's name will go up on the Ring of Honor. For another, Kansas is playing a home game coming off a road victory for the first time since 2009.
But bigger than those two factors combined, the player who has the potential to develop into the program's most exciting offensive performer since Reesing is scheduled to play in front of the home crowd for the first time. That assumes that whatever issue prevented him from playing in the opener does not resurface.
Watching the 5-foot-10, 170-pound dynamo who accelerates to top speed so quickly and doesn't appear to slow down to make such sharp cuts, that alone is worth the price of admission.