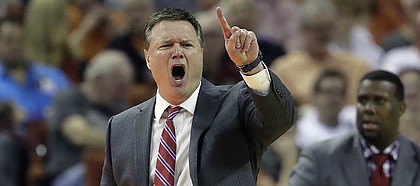 Kansas carries college basketball's No. 1 preseason ranking into Tuesday night's season opener vs. No. 10 Michigan State in Indianapolis, and its 16th-year head coach posed an interesting question about the ranking.
"I don't know whether preseason rankings are supposed to be who the best team is on Nov. 5th or who the best team is projected to be over time?" he wondered. "I really don't know, and nobody's given me a definition of what that means."
Good question.
The answer is that's up to the voter. In its voting guidelines, the Associated Press lists first: "Base your vote on performance, not reputation or preseason speculation. Avoid regional bias. Your local team does not deserve any special handling when it comes to your ballot. Pay attention to head-to-head results."
But it doesn't say anything about the preseason ballot. When I was a voter, I used my preseason ballot as a projection of where I thought teams would be come Final Four time and then quickly shifted to purely a performance vote, disregarding preseason rankings.
Remember, KU has just two returning starters in center Udoka Azubuike and small forward Lagerald Vick, so it might take a while for the talent to blend together. The good news: The other three starters likely will be preseason All-American Dedric Lawson and a pair of freshmen guards, Devon Dotson and Quentin Grimes. Plus, these Jayhawks have more depth than the past few teams.
"For somebody to say who's the best team, I don't think anybody could do that right now," Self said at Big 12 Media Day. "I would be surprised if we are, even though we were picked there."
He explained why.
"I don't think we'll be near as good as what we need to be to play to that ranking until we can get some experience in our backcourt," Self said.
If not Kansas, then which school has the best team in the nation right now?
"I have no idea," Self said. "I haven't seen anybody play."
But he pays close enough attention to rattle off a few schools.
"You would say Duke and Kentucky would be ahead of everybody right now," Self said, "because they had 10 practices and they went on a trip this summer, and based on what I was told and the little bit I saw, both teams were ultra-impressive with their respective games."
Anybody else up there?
"Mark (Few) returns most everybody out at Gonzaga," Self said. "Rick (Barnes) is loaded, got everybody back for Tennessee. Certainly, you have other teams out there that will all challenge."
Self also mentioned that he thinks No. 12 Kansas State deserves to be included in the national conversation, not just listed as a Big 12 contender.
AP voters ranked Kentucky second, Gonzaga third, Duke fourth, Virginia fifth and Tennessee sixth in the preseason poll.
"If we don't play to that (ranking) early, that's OK, too," Self said.
Of course, he meant that it's OK as long as the Jayhawks make great strides throughout the season, which his teams typically do.