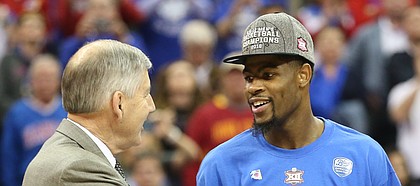 Kansas City, Mo. — The Big 12 men's basketball tournament will remain in Kansas City.
Big 12 commissioner Bob Bowlsby made two announcements during his brief press conference at the Big 12 Media Day Wednesday morning at the Sprint Center, one of which included that the conference has selected Kansas City to serve as the host site for the Phillips 66 men's and women's basketball championships in a multi-year agreement that will run from 2021-24.
"We don't really have much debate about the site of our tournament," Bowlsby said. "I think our men's tournament has been one of the best in the country."
Kansas City was the initial host of both championships in the first six years of the conference from 1997-2002, and again in 2005, 2008 and 2010-12. The men's postseason event has continued its run in Kansas City since 2010, while the women's championship will return in 2020.
"Kansas City has become synonymous with Big 12 basketball," Bowlsby said in an official release. "The excitement around the men's championship is contagious with the crowds inside Sprint Center and the surrounding Power & Light District. We look forward to bringing our men's and women's championships back together and continuing to build upon this atmosphere."
In addition, the Big 12 and Big East conferences officially announced the creation of a nonconference scheduling series for four seasons, beginning in 2019-20 and continuing through 2022-23.
Ten games between the two leagues will be played each season during the month of December, so it does not interfere with the BIg 12/SEC Challenge. The plan is for each conference to have five home market games, in which the home school has the right to determine the venue of its game.
"It (should) be a very good thing for both leagues," Bowlsby said. "I think it will be a great series."
The Big 12 and the Big East have already engaged in home-and-home matchups for the upcoming season, as Villanova travels to Kansas on Dec. 15. Creighton plays at Oklahoma on Dec. 18, Providence plays at Texas on Dec. 21, and Kansas State travels to Marquette on Dec. 1.
The complete slate for the first year is expected to be announced in the the spring of 2019.
"Like the Big 12/SEC Challenge, we sort of see this as an ongoing activity," Bowlsby said. "Time will tell on that."
Bowlsby did not take questions on the podium but did discuss with several reporters in the hallway the ongoing college basketball corruption trial in New York City.
— Stay in touch with KUsports.com for a story recapping Bowlsby's comments on the trial and the overall state of college basketball.