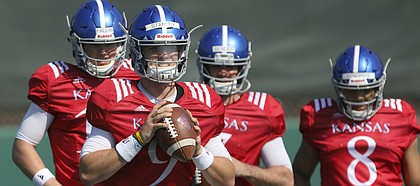 It remains to be seen whether Peyton Bender, who played every snap at quarterback for the Kansas football team at Texas Tech this past weekend, will retain his starting job for another week.
KU head coach David Beaty, when asked Monday morning on the Big 12 coaches media teleconference about the state of his program's QB situation, didn't endorse Bender, Carter Stanley or Miles Kendrick as the starter.
"We continue to compete at all of our positions. And we're going to continue to do that from this point going forward," Beaty replied. "We'll look at who has the best week and make a decision going from there."
In his fifth start of the season — also his first since the Jayhawks' Big 12 opener at Baylor — Bender struggled throughout the first half in a 48-16 loss at Texas Tech, finishing 18 of 41 through the air, with 221 yards, two touchdowns and an interception.
Neither Stanley, the starter in KU's previous two games, nor Kendrick, who has yet to play since suffering a shoulder injury at Baylor on Sept. 22, appeared in the 32-point defeat, the team's worst margin of the season.
With the competition seemingly open ahead of KU's home matchup with TCU (3-4, 1-3) on Saturday, Stanley, who was yanked quickly after a rough start at West Virginia on Oct. 6, leads the team in completion percentage (72.3), having connected on 34 of 47 throws for 304 yards, with three touchdowns and one interception.
Bender, who has played the most among KU's QBs, despite being rotated in and out of the lineup during games earlier in the season, leads in passing yards (902) and touchdowns (eight). He has completed 87 of 155 throws (56.1 percent), with two interceptions.
Kendrick came in off the bench in each of KU's first four games and has completed 11 of 19 passes (57.9 percent), for 100 yards, with a touchdown and no interceptions. Kendrick also has 47 rushing yards on 16 carries and a TD.
Opposing defenses have sacked Bender 15 times, Stanley six times and Kendrick once.
Beaty on administration
Since Jeff Long took over as KU's new athletic director this past summer, the widespread speculation surrounding Beaty's job security has grown.
Now 5-38 in his three-plus seasons as the Jayhawks' coach, and 1-30 in Big 12 games, Beaty was asked Monday, at 2-5 on the year and 0-4 in the conference, what he's hearing from the administration and how he's feeling about working for a new boss, in Long.
"I tell you what, I have complete and total trust in our administration," Beaty said. "Those guys have done a terrific job of taking care of business when it comes to their end and answering the questions and the needs that we have on our end. They've been very supportive. That's one of the things that I love about working here. And really, under Jeff, that guy wants nothing more than to be able to give what our players need to be successful and that means giving coaches what they need to be successful. So he's been — he's done everything that he can every day to help us become a better team."