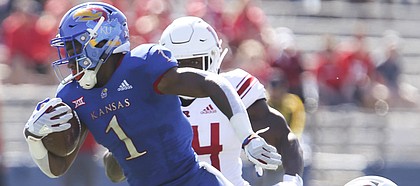 The Kansas football team's overall struggles this season haven't stopped some talented individuals from standing out.
Both freshman running back Pooka Williams and redshirt senior linebacker Joe Dineen landed this week on national midseason All-America teams.
The Jayhawks' star back, Williams was named to ESPN's mid-year freshman All-America team. Dineen made an even bigger splash, as a first-team defender on Sports Illustrated's midseason All-America team.
Of Williams, ESPN noted: "The 5-foot-10, 170-pound running back out of Louisiana has been the most productive offensive player for the Jayhawks, totaling 539 yards and four touchdowns at a 7.5 yards per carry clip. In the Jayhawks' two wins, he has averaged 144 yards per game and hasn't rushed for fewer than 65 yards in any of his five games."
On Dineen, SI offered: "It's been another bleak season in Lawrence, but Dineen has been a refreshing constant. His 53 solo tackles through seven weeks are tied with Cal's Jordan Kunaszyk for the most in the country."
PFF midseason All-Big 12 teams
The Jayhawks also were well represented on the midseason All-Big 12 teams from Pro Football Focus.
With a season grade of 85.8, Williams was the lone KU offensive player among PFF's all-league choices.
The defensive team, though, featured not only Dineen (88.1 overall grade), but also redshirt senior defensive lineman Daniel Wise (82.3) and junior safety Bryce Torneden (90.1).
Who's in
KU football coach David Beaty said Tuesday sophomore quarterback Miles Kendrick, who hasn't played since suffering a shoulder injury in Week 4 at Baylor, is available for this week's game at Texas Tech. The backup QB also was considered available at West Virginia, before KU's bye week.
Beaty said junior cornerback Kyle Mayberry, who was available in an "emergency" situation at WVU, and junior safety Mike Lee, who missed the loss to the Mountaineers, are back to being available, as well.
Who's out
Asked whether junior receiver Evan Fairs, who has played in only four games, was injured or was taking a redshirt, Beaty said the 6-foot-3 wideout is injured.
"Well, he's not available, so he's injured," Beaty added.
Sophomore receiver Quan Hampton, KU's head coach also revealed, could be a game-time decision at Texas Tech (2:30 p.m. kickoff, FOX Sports 1). Hampton missed KU's home win over Rutgers and its road loss at WVU.
"Unfortunately they're not there yet," Beaty said of Fairs and Hampton, who have seven receptions between them. "We're not going to put them in jeopardy. They're working hard at it."