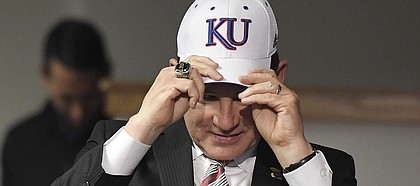 The list of former LSU Tigers who played for Les Miles and were drafted into the NFL is roughly as long as the number of junior college transfers the Kansas football program brought in during the past 10 years, hoping against hope that the juco route would be the elixir that cured KU's woes.
Can you imagine if Miles flips the script?
OK, OK. Predicting that Miles will put a bunch of current and future Jayhawks in the NFL is more than a little premature. He's got some games to win first.
But if Miles is actually able to accomplish the winning part at Kansas, NFL talent likely will have at least something to do with it.
Don't get me wrong. Winning at Kansas is more likely to be done with a bunch of two- and three-star grinders who come in with a chip on their shoulder, play over their heads and bring an element of toughness and tenacity to the field every time they play.
But, if you're lucky, you can mix that foundation with elite prospects — a few already are on the roster — and put together a pretty nice looking puzzle.
Miles didn't have to do that at LSU, the land of five-star recruits and big-time signing days. But he will at Kansas.
The big advantage he has today, though, is being able to sit down and tell the prospects he targets that he can help get them to the NFL.
He did it via the NFL draft 69 times at LSU, with 13 of those being first-round picks. And he'll try to add to that number in the coming years.
I know you've heard some of this before. But the big difference between the NFL promise brought to town by Miles and what Charlie Weis and Dave Campo brought to the table is easy to spot.
Weis and Campo worked well with NFL players while in the NFL. Miles worked well with them in college and helped them achieve their dreams of shaking Roger Goodell's hand.
In order for that reality to take root at KU, Miles is going to have to upgrade the depth and talent on the roster.
I know what you're all thinking. What about the walk-on from Wichita of whom Beaty said, back on signing day, that he "would not doubt that this guy will wind up in the NFL"?
I'm not saying safety Cody McNerney won't make it. But he did not play in a single game this season and still has a long way to go.
That's more of an indictment on Beaty's outlandish claim than McNerney's ability.
And that kind of talk is now a thing of the past.
According to those who know him best, it's not likely that Miles will oversell kids on the front end only to watch them underachieve on the back end.
For one, it does not sound like he's wired that way in terms of his coaching style. For two, he's been around the best of the best in college football — names like Odell Beckham Jr., Jarvis Landry, Jamarcus Russell, Tyrann Mathieu, Patrick Peterson and dozens more — and he knows both what he's looking at and what to think when a young man stands in front of him and tells him he wants to play in the NFL someday.
That's what made Miles' singling out of freshman cornerback Corione Harris so powerful at his introductory press conference on Nov. 18.
Harris is definitely one of those current Jayhawks who could have an NFL future. Pooka Williams Jr. is another. Give credit to Beaty and his staff for bringing a few of those guys into the mix.
But don't be surprised for a second if it's easier for Miles to bring players like them to town with much more regularity.
During his four seasons at KU, Beaty delivered one NFL draftee: Dorance Armstrong Jr., a fourth-round pick of the Dallas Cowboys earlier this year. Turner Gill had just one player drafted during his time (offensive lineman Tanner Hawkinson) and Weis sent three players to the NFL: Ben Heeney, Jacorey Shepherd and Dexter McDonald.
That's five NFL picks in the last nine seasons of Kansas football.
Miles' largest NFL draft class in a single year at LSU included nine players in both 2013 and 2014.
It may never get to that point at KU, but it sure seems like the Kansas football program is closer to that reality today than it was two months ago.