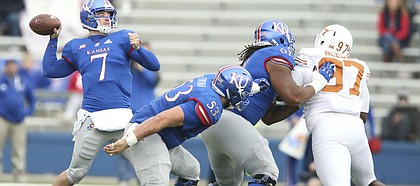 Kansas was unable to get its storybook ending for head coach David Beaty and the senior class.
The Jayhawks, who made a late push, struggled to get much going on the offensive end through the first three quarters in the final game of the 2018 regular season. Texas, meanwhile, made enough plays to pull off a 24-17 victory over KU Friday afternoon in David Booth Kansas Memorial Stadium.
The Longhorns (9-3, 7-2 Big 12) scored on their first offensive drive of the contest and never looked back, punching a ticket to the Big 12 Championship game.
Photo Gallery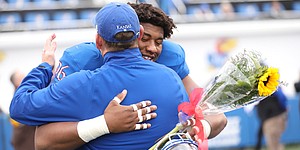 Kansas football v. Texas
View a gallery of images from Friday's game between the Jayhawks and Longhorns at Memorial Stadium in Lawrence, Kan.
With the loss, Kansas (3-9, 1-8) wrapped up its 10th consecutive losing season. Beaty finished off his four-year career as the KU head coach with a 6-42 overall record, including just 2-34 against conference foes.
Here's a quick look back at some of the action:
• The game turned when: Texas took a two-score lead with 8:40 left in the third quarter.
After a sluggish first half by both teams, the Longhorns broke the game open midway through the third quarter. Texas quarterback Sam Ehlinger connected with tight end Andrew Beck for a 5-yard touchdown pass to give the visitors a 14-0 advantage.
The play capped a six-play drive, in which the Longhorns needed less than two minutes to go 52 yards for the score.
• Offensive highlight: Freshman running back Pooka Williams has shown off his incredible talent on the weekly basis.
Related document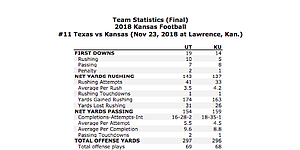 Box score: Texas 24, Kansas 17 ( .PDF )
Late in the first quarter, Williams managed a big gain on a play he had no business getting positive yardage. Quarterback Peyton Bender flicked a pitch to Williams, who ran left before facing multiple Texas defenders.
Williams then cut to the other side of the field, breaking a pair of tackles before getting the edge and gaining nine yards on the play. He then added another long run on the very next play.
In the fourth quarter, Williams scored KU's first points with a 57-yard touchdown run.
• Defensive highlight: It was nearly a perfect moment for linebacker Joe Dineen on his Senior Day.
Dineen dropped a sure-fire interception in the first quarter on third down, which would have given the Jayhawks really good field position. Still, it marked KU's first stop on third down after Texas picked up two such conversions earlier in the drive.
Dineen finished with just one interception in his career, which came against Central Michigan in the second week of the 2018 season.
Late in the first half, Najee Stevens-McKenzie actually recorded an interception on Texas quarterback Sam Ehlinger. On third down, Ehlinger misfired on a curl route and it resulted in his first interception since the season opener.
SCORING SUMMARY
FIRST QUARTER
8:35 — Collin Johnson 26 pass from Sam Ehlinger. Cameron Dicker kick. Eleven-play drive for 98 yards, in 5:08. (UT 7, KU 0.)
THIRD QUARTER
8:40 — Andrew Beck 5 pass from Ehlinger. Dicker kick. Six-play drive for 52 yards, in 1:59. (UT 14, KU 0.)
1:02 — Ehlinger 3 run. Dicker kick. Ten-play drive for 60 yards, in 4:33. (UT 21, KU 0.)
FOURTH QUARTER
14:44 — Pooka Williams 57 run. Gabriel Rui kick. Five-play drive for 75 yards, in 1:18. (UT 21, KU 7.)
10:57 — Dicker 34 field goal. Five-play drive for 41 yards, in 1:41. (UT 24, KU 7.)
3:26 — Daylon Charlot 31 pass from Peyton Bender. Rui kick. Nine-play drive for 70 yards, in 3:31. (UT 24, KU 14.)
1:42 — Rui 45 field goal. Eight-play drive for 30 yards, in 1:44 (UT 24, KU 17)