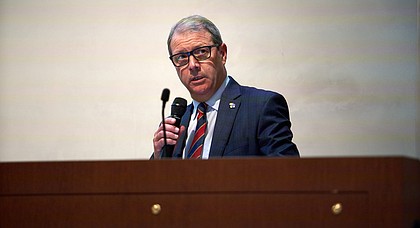 On Oct. 16 federal court proceedings revealed a University of Kansas basketball coach discussed on a wiretapped phone conversation a high-profile recruit and potential cash payments that could get him to come to KU.
A month later, KU Chancellor Douglas Girod still hasn't talked to assistant basketball coach Kurtis Townsend about the matter or received an explanation from him.
"We are waiting for direction from the NCAA, and we are officially in stand-down mode until they engage, and they have indicated they are going to engage. So, no, I have not," Girod told the Journal-World Thursday evening when asked whether he had talked to Townsend or gotten an explanation about what he meant when talking about a recruit and cash payments.
Furthermore, Girod said he is uncertain whether the public ever will receive an explanation about what Townsend meant when he said "if that's what it takes to get him here for 10 months, we are going to have to do it some way." Townsend made the comment after being told the recruit allegedly expressed interest in cash payments and other inducements that would be prohibited under NCAA rules.
On Thursday, when the Journal-World asked Girod whether the public should expect an explanation about those comments at some point in the future, Girod said: "It is a fair question, and I don't know the answer to it. Again, we are following everybody else's directions at this point. I don't know if the NCAA plans on putting out a report. I don't know what they plan on doing."
When pressed further on whether a lack of an explanation would be troubling, given that one interpretation of Townsend's comments are that Townsend was open to violating a fundamental NCAA rule, Girod said: "My assumption is the NCAA will want to look into it."
Meanwhile, Townsend remains on staff and has not been placed on any leave or other such status while the matter is being reviewed. KU head coach Bill Self previously has said that none of Townsend's recruiting duties have been curtailed as a result of the allegations. Athletic Director Jeff Long has declined to comment on whether he has talked with Townsend about the matter.
The Journal-World briefly interviewed Girod on Thursday evening as the chancellor was leaving an event at the Lied Center on the KU campus. The Journal-World last month submitted a more detailed list of questions to the chancellor's spokesman, but his office for more than two weeks has not returned an email or phone calls seeking a meeting to answer those questions.
The wiretapped phone conversation was brought up as part of a federal trial that ultimately led to fraud convictions of three college basketball insiders who were found to have orchestrated a pay-for-play college basketball recruiting scheme. Two of the three convicted men had direct links to the KU basketball program through their employment with Adidas, which has a multimillion-dollar apparel partnership with KU. A third Adidas employee who has pleaded guilty to fraud in a related case also had a direct connection to the KU basketball program.
On the phone conversation, Townsend was discussing with Adidas consultant Merl Code — one of the three men found guilty in the trial — prized recruit Zion Williamson. Code told Townsend that Williamson had expressed interest in inducements to come to KU. According to a transcript of the call read in court, the inducements included "cash in the pocket" and housing for him and his family.
At that point, according to the transcript, Townsend responded: "I've got to just try to work and figure out a way because if that's what it takes to get him here for 10 months, we're going to have to do it some way."
More details about the phone conversation are not known. The recording was not played in court, and the full transcript of the call has not been released.
Williamson, the recruit, ultimately did not come to Kansas. He currently is playing for Duke University.
In Thursday's brief interview, Girod did not make any statements about what he believes the NCAA will find when it begins looking into the matter. In April, when an unsealed federal indictment alleged that the family or guardian of two players — now identified as current player Silvio De Sousa and former player Billy Preston — had been paid to attend KU, Girod expressed "complete confidence that our staff understand and follow the rules."
In a joint written statement with new athletic director Jeff Long that was issued after the conclusion of the federal trial, Girod did not repeat that assertion of complete confidence. Instead, the duo acknowledged the trial had revealed some information that KU leaders were not previously aware of. Instead of issuing a statement of complete confidence that its staff had followed the rules, Girod and Long offered a more qualified statement.
"By limiting our comments, we are able to protect the integrity of the federal matters and the work of the NCAA," the pair said in the joint statement. "While that work continues, we remain fully supportive of our student athletes, our coaches and our men's basketball program."