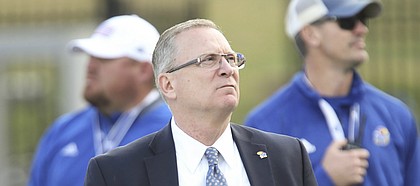 For the second time in a week a flight plan connecting Lawrence and Baton Rouge, La., sparked the interest of those following the ongoing Kansas football coaching search.
But, just as was the case this past Thursday, when flight tracking websites indicated a jet leaving from the city where former LSU head coach Les Miles resides would land in Lawrence, a departing flight on Tuesday for the Louisiana city never materialized.
KU's private jet took off from Lawrence Municipal Airport a little after 3 p.m. Tuesday, but it headed west instead of southeast, landing in Colorado Springs, Colo.
The university jet returned at approximately 10 p.m., and Jeff Long, KU's first-year athletic director, was seen exiting, along with two other men, who the Journal-World and other media members at the scene were able to confirm as pilots.
Long announced on Nov. 4. his plans to fire current KU football coach David Beaty. His search for Beaty's replacement remains ongoing.
The AD did not field questions from reporters, who were sent behind a gate by an aviation crew member before Long and two pilots deplaned.