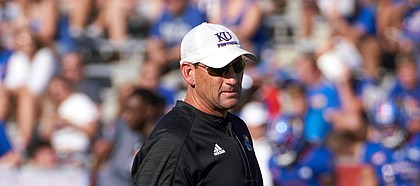 Kansas State made enough plays down the stretch to hold off Kansas yet again.
With 2:46 left in the game, K-State quarterback Alex Delton scored on a 21-yard touchdown run to give the hosts the final advantage in the 21-17 victory. The win extended the Wildcats' (4-6, 2-5 Big 12) dominance in the Sunflower Showdown, as they have won 10 consecutive meetings over the Jayhawks.
KU's last win over K-State came on Nov. 1, 2008. Kansas is now 3-7 overall, including 1-6 in conference play under head coach David Beaty, who was told last weekend that he would not be retained at the end of the 2018 season.
Photo Gallery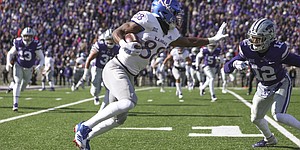 KU football vs. Kansas State
KU football falls to Kansas State in Manhattan Saturday afternoon.
The Jayhawks attempted a late surge on their final drive, but were ultimately unable to respond on the road.
Here's a quick look back at some of the action:
• The game turned when: Kansas committed multiple mistakes on a single possession late in the fourth quarter.
Clinging to a 17-14 lead, KU got the ball on its own 18-yard line with 8:29 remaining in the game. A pair of long runs by Khalil Herbert and Pooka Williams were negated by holding penalties, while Mavin Saunders was called for an unsportsmanlike penalty for kicking the flag.
Delton delivered the decisive blow on the ensuing drive.
• Offensive highlight: KU responded with an impressive drive following its first deficit of the afternoon.
After Kansas State took a 7-3 lead in the third quarter, the Jayhawks responded with a nine-play drive that accumulated 75 yards. Quarterback Peyton Bender connected with receiver Jeremiah Booker for a 9-yard touchdown to give Kansas a 10-7 advantage with 7:43 left in the third quarter.
A few players earlier, Bender and Booker also linked up for a 9-yard connection on third down to keep the drive alive.
• Defensive highlight: The Jayhawks had creative blitz packages in opportune times against Kansas State, particularly in the first half.
Joe Dineen and Bryce Torneden each tallied sacks for Kansas, though plenty of players provided pressure in passing situations. In the second quarter, Dineen blitzed up the middle on third down to force Alex Delton to get rid of it. Delton was called for intentional grounding, which pushed the Wildcats out of field goal range on a promising drive.
K-State turned to more designed quarterback runs and quick passes in the second half to counter Kansas' pressure. As a result, the Wildcats scored a pair of decisive touchdowns in the third quarter.
Related document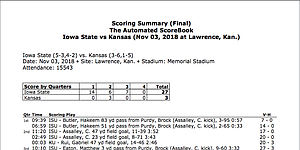 SCORING SUMMARY
SECOND QUARTER
5:38 — Gabriel Rui 21 field goal. Eighteen-play drive for 94 yards, in 9:40. (KU 3, KSU 0.)
THIRD QUARTER
11:59 — Alex Barnes 24 run. Blake Lynch kick. Five-play drive for 64 yards, in 2:04. (KSU 7, KU 3.)
7:48 — Jeremiah Booker 9 pass from Peyton Bender. Rui kick. Nine-play drive for 75 yards, in 4:11. (KU 10, KSU 7.)
2:57 — Barnes 2 run. Lynch kick. Eleven-play drive for 75 yards, in 4:54. (KSU 14, KU 10.)
FOURTH QUARTER
14:46 — Steven Sims 65 pass from Bender. Rui kick. Two-play drive for 71 yards, in 0:21. (KU 17, KSU 14.)
2:46 — Alex Delton 21 run. Lynch kick. Six-play drive for 60 yards, in 2:16. (KSU 21, KU 17.)