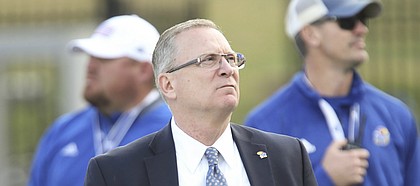 I ran into Kansas Athletic Director Jeff Long on Tuesday night in Indianapolis, and while chatting with him before KU's basketball victory over Michigan State we talked a little football, too.
Specifically, Long asked — joking I'm sure — if I had any tips for him as he began the process of leading KU's hire of yet another football coach. I laughed off the inquiry in the moment but have been thinking about it ever since.
I might not be well versed in actually conducting coaching searches. But I've done my share of covering them.
And if I've learned anything in my coverage of the process — as well as from watching what unfolded after each hire was made — it's that there's nothing worse than watching the ship go down with someone other than your guy.
Former Kansas Athletic Director Sheahon Zenger had guys. And he didn't hire any of them. Partly because he wanted to try harder. Partly because he wasn't always given the support to do so. And partly because the timing just didn't seem right.
Don't get me wrong. At the time he announced each of his football hires, Zenger believed that bringing Charlie Weis to town and hiring David Beaty, given the limitations and financial situation, were good moves for Kansas.
But there's no doubt in my mind that if he had just made the move to acquire on one of the coaches he was closest with, the Kansas football program would be in a much better position than it is today.
Mark Stoops, Justin Fuente and Jeff Monken were three of Zenger's guys. Jim Leavitt, for whom Zenger worked when the two helped start the South Florida program from the ground up, was another.
Zenger was close with all four, had worked with or considered hiring all of them at various stops in his career and knew what made each coach tick and how each coach operated. That kind of comfort and familiarity is never automatic and always takes time to build. And there's no telling how much it could have helped Kansas.
Stoops now leads the 12th-ranked Kentucky Wildcats. Fuente is 23-12 overall in his third season at Virginia Tech. Monken, who has been mentioned as a potential candidate for the current KU opening, has Army at 7-2 this season, with a near upset at Oklahoma in his recent past. And Leavitt, who coached linebackers for the San Francisco 49ers for four seasons after being fired at South Florida for improper treatment of players, has worked his way back into hot commodity status thanks to the passing of time and successful stints as the defensive coordinator at Colorado (2015-16) and Oregon (2017-present).
That's not to say any of the four would be enjoying the same success today if they had come to Kansas. There are challenges and obstacles and factors at KU that aren't present everywhere else, issues that make the job as hard as any in college football.
And while that fact might scare some away from pursuing the job, it also should serve as inspiration for Long to hire the man he knows best, the coach he wants to go to battle with under such extreme conditions.
If that man is Les Miles, go get him. Whatever it takes.
If there's someone else out there who Long believes will do better, who he feels he has a better connection with and can be more real with, then call an audible and go get that guy.
Because no matter who Kansas hires and regardless of what his resume or background looks like today, all of it will become irrelevant on Day 1, when the new coach steps into his office at the Anderson Family Football Complex and begins to sort through all that makes rebuilding Kansas football such a monster task.
No matter whose name is on the wall outside of that office door, there will be dark days, scary times and trying moments. And Long will feel them right along with the new coach. Isn't walking through a Haunted House easier to stomach when you have a friend's hand to hold onto?