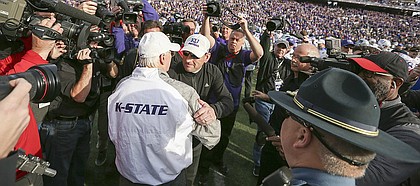 Three weeks ago, when Kansas State was enjoying its bye week, coming off of a 31-12 blasting of Oklahoma State and Kansas was getting torched by Texas Tech, 48-16, it didn't occur to me that the duly named Sunflower Showdown could amount to much this season.
More of the same seemed on the way, especially since Saturday's 11 a.m. game is in Manhattan and KU never wins a Big 12 road game.
Call me crazy — you wouldn't be the first — but I think Kansas is going to win.
First-year Athletic Director Jeff Long's decision to announce that fourth-year head football coach David Beaty will be out of a job at season's end can only help the Jayhawks.
Podcast
The KU Sports Hour
As the Kansas football program moves on from head coach David Beaty, and athletic director Jeff Long zeroes in on ...
Let a team that has a coach who strikes fear into his players know that the coach is on his way out and the players exhale and stop worrying about doing every little thing just so.
Do the same with a coach they really like but don't fear enough to become detail freaks, and they have a chance to play out of their minds for him.
The Jayhawks like Beaty and this is the best chance of the three remaining games to give him a victory.
They have carried the burden of trying to save their coach's job all season, and now that Beaty's job status no longer is an issue, it just might free the players' minds and make them hungry to try to show that nice guys don't necessarily always have to finish last.
Plus, it's not as if KU is playing Alabama. The Wildcats don't resemble a typical Bill Snyder team in any way.
Special teams, a big part of Snyder's winning signature throughout both stretches of his remarkable career, keep betraying the coach and he's not handling it well.
Speculation about whether this is Snyder's last season has grown from whispers to shouts in a short period of time.
Football's an emotional game and even on the road, the edge lies with Kansas there because of the circumstances surrounding both coaches.
Both teams enter the rivalry game 1-5 in Big 12 play, 3-6 overall.
Tangible football reasons hint at an upset, as well.
K-State is weakened by injuries at quarterback and KU is tied for third (with Utah State) in the nation with 23 turnovers gained, one behind co-leaders Ohio and Georgia Southern.
KU's greatest offensive strength matches up with K-State's biggest defensive weakness. KSU's defense ranks 116th among 130 FBS schools with an average of 5.35 yards allowed per rush. The Wildcats will have a tough time stopping Pooka Williams Jr. (6.1 yards per carry) and Khalil Herbert (4.5 ypc).
Many wise men — or should I say guys? — caution to never bet against a streak, and K-State has won nine in a row in the series. Kansas State is favored by 10-and-a-half.
Look for an upset: Kansas 24, Kansas State 23.