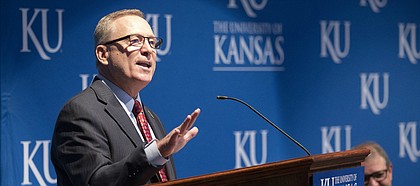 University of Kansas athletic director Jeff Long returned to Lawrence Thursday evening on a flight from Dallas' Love Field, with no potential football head coach in tow.
Though flight tracking websites indicated the jet from which Long and deputy athletic director Sean Lester deplaned at about 5:15 p.m. at Lawrence Municipal Airport would arrive after first making a stop in Baton Rouge, La., those with knowledge of the flight itinerary said that plan changed.
LSU, of course, is located in Baton Rouge, which remains the home of former Tigers head coach Les Miles, the man most brought up in Long's coaching search since he officially moved on from David Beaty this past Sunday.
Podcast
The KU Sports Hour
As the Kansas football program moves on from head coach David Beaty, and athletic director Jeff Long zeroes in on ...
Long did not speak with reporters, nor a small group of KU fans who were at the airport, upon exiting the Flexjet-operated plane.