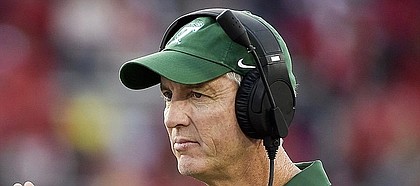 Jeff Long held a very candid press conference Sunday night in the wake of the announcement that David Beaty would coach the final three games of the season for Kansas and won't be retained.
During the half-hour question-and-answer session he opened a window into what a search looks like from an athletic director's chair.
"The biggest challenge is trying to find out who is really interested in your job and who is playing a game," Long said.
He also said he wants to have a new coach in place at the end of the season, if not sooner, and his preference is someone with experience as a head coach.
A look at 17 potential hires — excluding North Carolina State's Dave Doeren because he has a $6 million buyout and has it rolling where he is — broken into categories, listed in alphabetical order:
Mount Union Men
Playing for retired Larry Kehres at Division III Mount Union seems to be a great precursor for coaching success.
Kehres won 11 NCAA Division III national titles at the school in Alliance, Ohio, and set an NCAA record with 55 consecutive victories from 2000 to 2003.
Matt Campbell's success at Iowa State can't hurt other successful coaches who played for Kehres and might be looking for the next career step, such as:

Jason Candle, Toledo: Campbell's right-hand man, offensive coordinator and top recruiter at Toledo, he went with Campbell to Iowa State for a day and then accepted the Rockets' head coaching job. He already has done something Candle never did, winning a MAC title. Extremely strong candidate will break into the Power Five somewhere after this season, why not Kansas?
Alex Grinch, Ohio State co-defensive coordinator: Former Missouri coach Gary Pinkel's nephew a rising star in the coaching ranks. His results running Washington State's defense led Ohio State to hire him.
However, Long stated Sunday night that his preference is to hire someone with head coaching experience.
Vince Kehres, 42, Mount Union head coach: Son of Larry Kehres, Vince has a 76-4 record and has won two national titles.
Ed Warinner, Michigan offensive line coach: Warinner was the architect of KU's greatest offense in history and it all centered around scrambling Todd Reesing. Earlier in his career, Warinner had huge success at rush-heavy Army. Has a great offensive mind and has worked for Brian Kelly at Notre Dame, Urban Meyer at Ohio State, P.J. Fleck at Minnesota and now Jim Harbaugh.
Triple-option coaches
Brian Bohannon, Kennesaw State: In his fourth season as the school's first football coach, Bohannon has the FCS Owls ranked No. 2 in the nation with an 8-1 record. He's a Monken in the making and also a Paul Johnson disciple. Worth a long, long look.
Troy Calhoun, Air Force: Terrific coach in midst of a tough season. Could be open to a fresh start.
Willie Fritz, Tulane: Has won big nearly everywhere he has coached, including going 17-7 at Georgia Southern, and is an expert at flipping losing programs (Blinn College, Central Missouri). Hasn't won big at Tulane yet but does better every season in competitive American Athletic Conference.
Runs the triple-option out of the pistol formation, so he passes more than most flexbone coaches do.
Players compete extremely hard for him and he's from Johnson County.
Would not be afraid of the monumental challenge because he's been there, done that.
Jeff Monken: What he has done at Army is as remarkable as anything any coach has done anywhere in the past few years.
Seldom passes out of the flexbone, but doesn't need to do so in order to keep defenses guessing.
Came very close to beating Oklahoma this season. That just doesn't happen unless the underdog has a great coach.
Is Paul Johnson's most successful disciple.
Other Active Head Coaches
Major Applewhite, Houston:
Former Texas quarterback in second season as head coach at Houston, where he is 14-8, including 7-2 this season.
Neal Brown, Troy: Does fast-paced tempo make sense for Kansas, especially in the early days of a rebuilding project?
Lane Kiffin, Florida Atlantic: Never at a loss for knowing ways to garner headlines, Tiffin recently offered a scholarship to Matt Leonard's sixth-grade son, Cole Leinart, 12.
Lance Leipold, Buffalo: Won six Division III titles at Wisconsin-Whitewater and is 8-1 at University at Buffalo in this his fourth season at the school. He obviously evaluates talent well because he recruited almost every player on the roster.
If Iowa State loses Campbell after this season, Leipold and Fritz will be in the running for that job.
The last time Kansas plucked a coach from Buffalo, Turner Gill, it didn't work so well.
So what?

Seth Littrell, North Texas: Once worked as behind-the-scenes contributor on Mark Mangino's staff at Kansas. Also worked for Mike Leach at Texas Tech and was thought to be where the Red Raiders would turn if Kliff Kingsbury had a bad season, but unless he loses his last three games to end season on five-game losing streak, he's not going anywhere.
Matt Wells, Utah State: Is 8-1 overall, 5-0 in Mountain West Conference. A native of Sallisaw, Oklahoma, Wells might be interested in returning to this region of the country.
Former head coaches
Jim Leavitt: Oregon defensive coordinator built South Florida program from scratch into a top-25 program. Wants the Kansas State job, but might enjoy beating the Wildcats since he so far hasn't been able to rejoin them.
Jim McElwain: Did terrific job at Colorado State, but flopped at Florida. Could spend rest of life counting his buyout money, but he's coaching wide receivers at Michigan, so he's not done seeking another shot at running a program.
Les Miles: Part of his buyout from LSU stipulates that he must actively seek another job as a head coach in college football, which makes his level of interest in any job tough to read. He has to look, but is being paid handsomely not to work. Could it be a similar situation to what I once heard a local golfer say about looking for an opponent's ball: "Always look, never find"?
Then again, Miles worked with Long for 10 years at Michigan and he just might be interested in coaching Kansas.