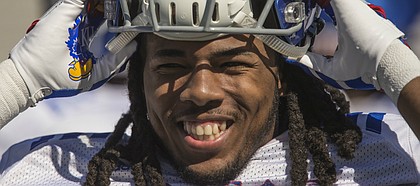 Mike Lee first met Corione Harris about five years ago, and grew to know his fellow defensive back well while he and Harris teamed up at Landry-Walker High, in New Orleans.
His understanding of Harris' potential led Lee, the predecessor among the two four-star prospects from the same prep program in Louisiana, to have lofty expectations for the incoming freshman.
All the same, as the duo reunited at the University of Kansas during this past spring semester, Lee also appreciated Harris' situation. Entering his junior season with the Jayhawks, Lee, a safety, wouldn't judge the young corner too harshly if it took him some time to adapt to playing at the college level.
And that's why even the KU veteran who knew Harris best walked away from spring practices impressed.
"You know how some high school players get to college and they fall off a little bit?" Lee asked rhetorically. "Well, he got here, and he was like, 'I'm ready to play.'"
A 6-foot-1, 180-pound cornerback who graduated from high school early in order to enroll at KU this past January, Harris showed up set to prove himself worthy of the hype that made him one of the most anticipated recruits in the program's recent history.
Lee said Harris smoothly transitioned to FBS practices because he's "very disciplined" and possesses the ability to focus on assignments.
"He do his job. And that's what I like," Lee added. "So I can count on him to do his job while I do my job. That's making it more easy for me."
One of the many advantages of having Harris on campus and competing this past spring proved to be the effect his presence had on teammates.
Hasan Defense, who started 10 games at cornerback for Kansas in 2017, welcomed the addition of a budding freshman capable of stealing playing time from veterans.
"That definitely makes me work a lot harder, knowing I've got someone like Corione behind me who we've brought in who's really good," Defense said. "That makes us all compete a lot harder. We all push each other. We're competing, but at the end of the day, we know we've all got to work together to get to our goal."
The first characteristics of Harris' that jumped out to junior nickelback Bryce Torneden were the corner's ball skills. Torneden described Harris as long and rangy with natural speed, all of which empower the freshman to go make plays on passes as they reach their destination.
"He just makes it look effortless, kind of. Just defending some fade balls, and going up and getting them," Torneden relayed of plays Harris executed during practices. "It looks easy."
From the first day of spring practices, Harris began standing out to teammates and coaches alike. Lee recalled how the would-be high school senior intercepted a throw to the receiver he was covering during the earliest one-on-ones of the spring.
"I was like, 'Wow.' Like, he really came to play. He really showed he could bring a lot of energy to the defensive side of the ball," Lee assessed of his former Landry-Walker and current KU teammate. "He's a great cover cornerback, man-to-man cornerback. He's a lockdown cornerback, so, really, that's what I like about him."