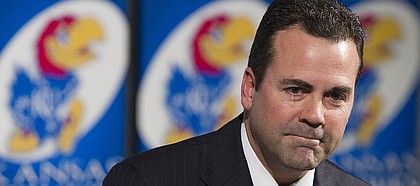 The University of Kansas is in the market for a leader of its athletic department for the first time since late 2010 now that Sheahon Zenger is out.
Monday morning's news that KU Chancellor Doug Girod had relieved Zenger of his duties, effective immediately, means that the university is looking for its 11th AD in school history.
When that person is hired, a crucial element of his or her job, as was the expectation with Zenger, will be to get the KU football program back on the right track.
During his seven years with KU, Zenger, who spent six years at Illinois State before coming to Kansas, fired two football coaches and hired three, one on an interim basis. His three hires (Charlie Weis, interim Clint Bowen and current head coach David Beaty) carry a 10-62 record into the 2018 season, Beaty's fourth at KU.
Throughout the past couple of years, Zenger said it was consistency, stability and a stick-with-it approach that would help Kansas football get going again. But on Monday, Girod decided he no longer could stick with Zenger through that process.
Although Girod and his search committee, which will be led by former interim AD Drue Jennings — known best as the man who hired Bill Self back in 2003 — are at the beginning of their search, here's a list of a few potential candidates for the job.
Zenger leaves KU with a $1.4 million buyout and a $700,000 annual salary that ranked him sixth among the eight Big 12 AD salaries that are made public. Baylor and TCU, as private universities, are not required to release the salaries of their employees.
According to numbers from Spencer Fane LLP, Texas Tech AD Kirby Hocutt ($1.45 million) and new Texas AD Chris Del Conte ($1.43 million) led the list of Big 12 ADs, with Oklahoma's Joe Castiglione ($1.28 million) and West Virginia's Shane Lyons ($920,000) not far behind.
Iowa State's Jamie Pollard ($868,112) checked in just ahead of Zenger during the 2017-18 school year. Oklahoma State's Mike Holder ($644,372) and Kansas State's Gene Taylor ($500,000) rounded out the list of available salaries.
Potential KU AD Candidates:
— Joe Parker, 53, Colorado State University AD
Current status: 3 years at CSU
Salary: $400,000 per year; contract runs through 2022
Worth noting: Although the idea for the project began long before he arrived in Fort Collins, Colo., Parker was the man who brought it home. Last year, CSU opened a $220 million on-campus football stadium that brought the Rams into the modern age of college football. Parker also is familiar with the Big 12 Conference from his past stops at Texas Tech (deputy AD), Texas and Oklahoma. He also successfully negotiated an apparel deal with Under Armour and a multimedia rights partnership with Learfield, both of which brought more money into the CSU athletic department. The former Michigan swimmer who worked at his alma mater from 2003-11 was part of a four-man committee responsible for more than $400 million in infrastructure improvements, including the renovation and creation of new revenue opportunities at Michigan's football stadium.
— Curt Apsey, 56, Boise State University AD
Current status: 3 years at BSU
Salary: $331,500 per year; contract runs through July 31, 2020
Worth noting: Apsey replaced former Boise AD Mark Coyle, who left to take the same job at Syracuse, but it marked a return to a familiar place. Apsey spent 16 years as the senior associate AD at BSU and also was the interim AD in 2011. His work on capital projects at BSU totaled nearly $72 million with four of Boise State's major sports programs from 2006-2013. Dubbed by the school at the time of his hire as the perfect bridge from the glory days of Boise State athletics, when the football program broke onto the national map, to the modern days, Apsey has a solid record of both academic and athletic success during both of his stints with the BSU program.
— Michael Alford, 48, Central Michigan AD
Current status: 1 year at CMU
Salary: $275,000 per year (plus bonuses); contract runs through 2021, up for annual review
Worth noting: Although still new to CMU, Alford's extensive track record at Oklahoma, where he served under Castiglione from 2012-17, and in various roles as director of corporate sales and marketing with the Dallas Cowboys and Cincinnati Bengals, at ABC and with Alabama's Crimson Tide Sports Marketing provide an impressive resume. At OU, Alford planned and managed a $160 million end zone facility project and also led the $7 million Blake Griffin Performance Center upgrade for Oklahoma basketball, which is scheduled to open this year. In 2016, Alford was recognized by College AD's panel of athletic directors as one of 2016's "Next Up," which lists employees identified by senior-level administrators as those ready to take the next step and become an athletic director.
– Terry Mohajir, Arkansas State AD
Current status: 6 years at ASU
Salary: $305,000 per year; contract through June 2019
Worth noting: After being a part of Glen Mason's football staff at Kansas in the early 1990s, Mohajir returned to KU in 2011 and spent 13 months filling a number of roles in the athletic department after working at Florida Atlantic as a senior associate athletics director from 2004-11. While at FAU, he oversaw development, marketing, ticket sales, corporate sales and the media relations department. His duties at KU included many of those and expanded to include assisting in the operations for the Williams Educational Fund and directing the efforts of the Marketing and Game-Day Experience staffs. Since landing at Arkansas State, his alma mater, Mohajir has impressed with his ability to upgrade facilities and also worked with elite football coaches, first for one year with Gus Malzahn, who now is at Auburn, and later hiring Bryan Harsin, who now leads the Boise State program.
– Sean Lester, Interim AD at Kansas
Current status: 15 years at KU
Salary: N/A
Worth noting: Entering his second stint as the interim athletic director at Kansas, Lester came to KU with former KU AD Lew Perkins in 2003 and served as Associate AD until becoming interim AD from September 2010 through February 2011, after Perkins' departure and prior to Zenger's arrival. Lester, who has played a key role in overseeing men's basketball, football and baseball throughout his time at Kansas was promoted to Senior Associate AD in July of 2011 and promoted again to Deputy AD in January 2013. The fact that he now has been twice trusted to handle the transition from one athletic director to the next says something.

— Mitch Barnhart, 58, Kentucky AD
Current status: 16 years at UK
Salary: $800,000 for 2018-19; contract runs through 2021-22 and increases by $30,000-$50,000 each year.
Worth noting: After 16 years of putting in work to build both the football and basketball programs at Kentucky, Barnhart may very well be content where he is and is likely, at best, a long shot to even express interest in the Kansas job. But given the fact that he grew up in Kansas City and attended college at nearby Ottawa University, he probably would be worth contacting. Not only does Barnhart understand the ins and outs of big time college basketball, having worked with the Kentucky program and UK coach John Calipari, but he also hired Mark Stoops to lead the Wildcats football program in 2012, a move that led to a 26-36 record in the past five years, with UK winning seven games and playing in a bowl game in each of the past two seasons.
— Danny White, Central Florida AD
Current status: 3 years at UCF
Salary: $525,000 annually; contract runs through
Worth noting: Hired by UCF at the age of 36 in late 2015, the question for White is simple: After passing out "national championship" rings to the UCF football program following an undefeated 2017 season, would the former Notre Dame offensive lineman enjoy the opportunity to step into a Power 5 conference and try to win a ring for real? Prior to his time at UCF, White — who is not the former Dallas Cowboys quarterback — served as a senior associate AD at Ole Miss and also was the AD at Buffalo from 2012-15. Considered one of the most impressive ADs under 40 in the nation, White comes from a family of athletic directors. His father, Kevin White, is the AD at Duke and his sister and brother hold associate athletic director jobs at Florida Atlantic and SMU.
NOTE: None of these names, as of today, are known to have expressed any interest in the job. And this list certainly can change or grow in the weeks ahead. But with Zenger's time at KU now over and the committee ready to move full-speed ahead with its search, some of the names mentioned above may be on the radar.