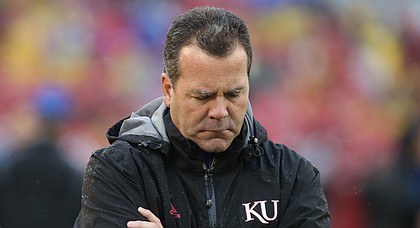 University of Kansas Athletic Director Sheahon Zenger has been fired, effective immediately, KU Chancellor Douglas Girod announced Monday, citing a lack of progress and a need for new leadership.
"This morning I met with Sheahon and relieved him of his duties," Girod said in a news release Monday morning. "Sheahon has been a loyal Jayhawk, and Kansas Athletics has improved in many ways under his leadership. But the department continues to face a number of challenges, and progress in key areas has been elusive. To achieve the level of success we need and expect, a change in leadership is necessary."
Zenger, 52, has been KU's athletic director since February 2011.
His employment agreement was terminated without cause, KU said in the news release, and per that agreement, he will be paid two years of his salary of $700,000, plus health insurance premiums, for a total of $1,419,309.
Sean Lester, deputy athletic director, will serve as interim director.
"I have spoken with Sean about my expectations for the coming months," Girod said. "I am confident he will provide sound leadership and stability during this transition."
Lester, in a statement Monday, said he accepted the "challenge to help lead Kansas Athletics through this transition," while also acknowledging that "this is a tough day for us, because we know what kind of person Sheahon is. We know how much he loves this university and this state, and how much he cares, first and foremost, for KU's coaches and student-athletes."
Girod has already begun the process of identifying a permanent athletics director, according to the news release. To lead this process, he has enlisted Drue Jennings, who served as interim athletics director in 2003 and led the search processes that brought Chancellor Bernadette Gray-Little and KU men's basketball coach Bill Self to KU. Jed Hughes, a consultant with the Korn Ferry executive search firm, will assist Jennings.
In an interview Monday with the Journal-World, Girod said he expected that KU would have a new athletics director named by the end of the summer.
He said there wasn't a specific event that triggered Zenger's termination.
"There wasn't a precipitous event of any kind, in all honesty. ... I've tried to spend this year understanding the model, being as supportive as I could be in trying to understand the directions we were heading with athletics," Girod said. "A lot of good things are going on there, but I think we've just lost some of our momentum, and that being the case, it was time for a leadership change."
When asked if other organizational changes at KU Athletics were on the horizon, Girod said he didn't expect any but that he was "sure we'll take a hard look at our athletic operations and decide where we need to go from there."
Asked what he was looking for in a new athletic director, Girod said, "I think energy, vision, obviously a strong sense of what it takes to continue to be successful in the current environment of college athletics and the current financial challenges — or pressures, at least — that everybody faces, not to mention changes in amateurism and everything else that goes around college athletics. Someone very forward-thinking is going to help lead us through all of that."
As athletic director, Zenger oversaw a budget of about $100 million. A recent review by the Journal-World found that in recent years, expenses of the athletic department have been increasing at a rate far greater than revenue growth. The review also found that department finances continue to be challenged by declining football ticket sales, which are down by about $6 million a year from their peak in 2009.
In a message to the KU community as a whole, Girod sought to provide context for Monday's decision, according to the news release.
"Since becoming chancellor, I have spent countless hours with higher education peers and Jayhawks to hear their perspective on KU," he wrote. "A common thread in these conversations is that, as a major public university with national aspirations, we must continue to strive for excellence in all areas — including athletics. As I have said many times, a successful athletics department is inextricably linked to our mission as a flagship research university.
The chancellor also in his Monday statement mentioned KU football, whose coach, David Beaty — hired by Zenger — has a record of 3-33 since 2015.
Zenger's dismissal does not change the status of Beaty.
"In addition, earlier today I spoke with Coach Beaty and shared my expectation that he will continue recruiting hard and getting his team ready for the season," Girod said in the statement.
In a statement Monday, Beaty expressed his gratitude to Zenger.
"It's certainly been a difficult day," he said. "Sheahon gave me an opportunity to be the head coach here at Kansas, a place that is special to both of us, and I will be forever grateful for that."
Beaty added that his focus would be on preparing for the upcoming football season.
"Although this is a tough day, we will move forward as a program and continue to keep all of our focus on preparing for the season ahead."
Zenger also hired Beaty's predecessor, Charlie Weis, who went 6-22 at KU.
Self said Monday was a difficult day because Zenger was well-liked.
"Today is a hard day at Kansas Athletics not only because Sheahon has been so supportive of our student-athletes and coaches, but because he's a Kansas guy who loves this university," Self said in a statement. "We've had many positive things happen since Sheahon's arrival ... This is sad because we all liked and appreciated Sheahon, but we know that in all businesses tough decisions have to be made; we respect that and wish the best for Sheahon and his family."
Zenger's latest contract amendment, which became effective July 1, 2017, stipulated that his employment would extend another four years — through June 2021. Gray-Little signed the agreement in early May 2017, right before she stepped down as KU's chancellor.
As the Journal-World previously reported, the state-funded portion of Zenger's contract is 29 percent, and the Kansas Athletics portion is 71 percent, according to KU spokesman Joe Monaco.
That calculates to $203,000 per year paid with state dollars and $497,000 from Kansas Athletics.

Zenger's termination comes as Kansas Athletics is working to raise money for $350 million in athletic facility improvements, with more than $300 million slated for the football program. Work already is underway for a $26 million indoor practice facility for the football team. However, it is unclear how the change in leadership may affect other planned improvements that have not yet been started.
Zenger, a Salina native who attended K-State and then got his doctorate at KU in 1996, came to KU seven years ago from Illinois State. He succeeded Lew Perkins, who resigned from KU in September 2010.
Check back as this story develops.
JOURNAL-WORLD SERIES: The finances of KU Athletics
In September 2017, when KU announced plans to build $350 million in new facilities, primarily for football, it marked the beginning of one of the biggest financial bets the program has ever made. The Journal-World decided to study the financial books, talk to leaders and give readers a better understanding of the money game that is constantly a part of big-time college athletics. These are the resulting stories from spring 2018.
---
•
April 29 —
A look at the finances of Kansas Athletics: Rising revenues, soaring costs, big bets
•
April 29 —
KU basketball saves athletic department budget, allows leaders to dream of 'blue sky potential'
•
May 6 —
KU football ticket sales down about $6 million per year; some question whether $300 million in new facilities will help
•
May 13 —
Administrative salaries jumped by 42 percent in a single year at Kansas Athletics; KU salaries top K-State's
•
May 13 —
How much does KU spend on athletics? More than the city spends on police, fire and roads, but returns are big too
•
May 20 —
Girod: Athletics important to KU, but there is a "disconnect" too
•
May 20 —
Should KU be worried about getting dumped from a Power 5 Conference? The financial stakes are huge
•
May 22 —
Rock Chalk Park started as $39 million deal for KU; now it may top $100 million after KU allowed lease to be changed
— Journal-World reporters Joanna Hlavacek, Kim Callahan, Chad Lawhorn, Tom Keegan, Matt Tait and Benton Smith contributed to this report.