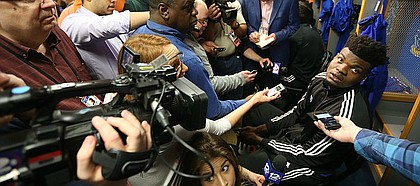 San Antonio — Udoka Azubuike paused for a couple of seconds, smiling with his eyes trained toward the locker room floor but his mind racing to a moment he's dreamed about for years.
Azubuike, a sophomore center, has starred at Kansas all season, leading the Jayhawks to a spot in the Final Four. All of it with a goal in mind of trying to make life better for all of his relatives in Nigeria.
Still only 18 years old, he hasn't seen his mother since he left for the United States about six years ago. Communication is difficult via FaceTime or Facebook because of the internet connection back home. The NCAA will pay up to $3,000 in travel expenses for players' families to watch the Final Four and that means Azubuike's mom, Florence Azuonuwu, will watch him play basketball for the first time.
Not just the first time at Kansas. She's never seen him play basketball ever.
"It's going to be an emotional moment for me," said Azubuike, still smiling at the idea of it all. "I don't know how I'm going to handle it."
Photo Gallery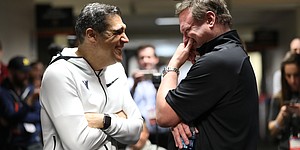 Kansas and Villanova press conferences
View a gallery of images from the Jayhawks' and Wildcats' press conferences and interviews with media members on Thursday, March 29, 2018 at the Alamodome in San Antonio, Texas.
The KU athletic department appeared to confirm Azubuike's mom will be in attendance Saturday, crediting U.S. Senators Pat Roberts and Jerry Moran, and U.S. Representative Kevin Yoder, all from Kansas, in a press release. The school additionally thanked U.S. Ambassador to Nigeria Stuart Symington IV; Cecily Brewer, Senior Desk Officer, Nigeria, U.S. Department of State; Sherman Grandy of the U.S. Consulate in Lagos; and several members of the U.S. Consulate in Lagos, Nigeria: Laura Fields, Megan Moore and Carol Cox.
Azubuike said his mother was expected to fly from an embassy in Nigeria to France on Thursday. Afterward, she will travel to the United States and he was hopeful she could arrive in San Antonio by Friday night.
"She don't know nothing about college basketball," Azubuike said. "She's probably seen a little clip about basketball, but she really don't understand it so it's going to be fun."
Devonte' Graham added: "We get all giddy about my mom and stuff coming out and that's even more huge for him, for her to come all the way from Nigeria to come see him play."
Sitting in front of a horde of media members Thursday afternoon, Azubuike, the youngest child in his family, proudly talked about his mom. She's a teacher at a middle school in Nigeria. She raised him and his four siblings.
He moved to the United States because he said it wasn't always safe to live there. When he was leaving, his mom, who he mentioned is very religious, put a Bible in his hands and told him, "Don't forget this."
"We had a lot of hardships over there and there was a lot of bad stuff happening," Azubuike said. "It just wasn't good for me. When the opportunity came for me to travel out to the U.S. to play basketball and to go to school, I didn't think twice about it and my mom was pretty excited about it, too."
Azubuike said his mom talked to a bishop in Jacksonville to arrange his high school career at Potter's House Christian Academy. That was the first time he played organized basketball outside of a camp and some individual instruction in Lagos, Nigeria's biggest city.
On the phone, he said he talks to his mom about once every three weeks. He said she speaks Ika, a language popular in southern Nigeria. Sometimes he'll send messages on Facebook to his sister, who will pass them onto his mom.
"He lost his father, I think, when he was in seventh or eighth grade," Self said. "So if you can imagine, she loved her son so much that she sent him away when he's 14 or 13 years old. Because Dok, he just turned 18 years old. So how hard would that be?"
Playing in front of 16,300 fans at each home game at Allen Fieldhouse, Azubuike has dreamed about the day when his mom would be in the stands.
Balancing the excitement of seeing his mom and playing in the biggest game of his career, he says it'll be hard to contain his emotions. But it's everything he's always worked toward.
"She's been through a lot back home raising five kids without a dad, just my mom," Azubuike said. "That's what I do it for, man. I just want to be successful. My mom, thinking about what I've been through and how my mom raised us, that motivates me a lot."