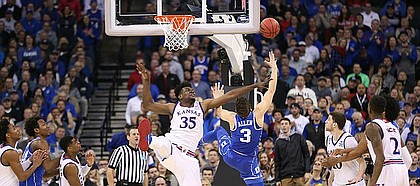 San Antonio — Udoka Azubuike has faced some of the most talented big men in the country this season: Duke's Wendell Carter Jr., Seton's Hall's Angel Delgado, West Virginia's Sagaba Konate and Texas' Mo Bamba, among others.
Azubuike's Final Four matchup against Villanova big man Omari Spellman will present some new challenges when the two teams play at 7:49 p.m. Saturday at the Alamodome. Spellman, listed at 6-foot-9, 245 pounds, has the size to fight for position in the paint, but he's not afraid to stretch the floor by shooting 3-pointers.
During the NCAA Tournament, Spellman made 9 of his 19 attempts (47 percent) from behind the arc in four games. He's capable of playing on the perimeter, forcing opposing big men out of their usual defensive positions in the low post.
"It's going to be different because I'm normally guarding dudes that play in the paint," the 7-foot, 280-pound Azubuike said.
Photo Gallery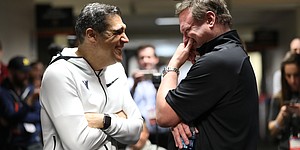 Kansas and Villanova press conferences
View a gallery of images from the Jayhawks' and Wildcats' press conferences and interviews with media members on Thursday, March 29, 2018 at the Alamodome in San Antonio, Texas.
Spellman, named the Big East freshman of the year, had 18 points and eight rebounds in a Sweet 16 victory over West Virginia. In the Elite Eight vs. Texas Tech, he added another 11 points and six rebounds.
From Cleveland, Ohio, Spellman leads the Wildcats (34-4) with his 44.6 percent shooting from the 3-point line. Not many forwards can defend centers and find comfort at the 3-point line. Plus, he ranked fourth in the Big East in rebounding.
"I played with a lot of guys that can shoot the ball," Azubuike said. "All I have to do is not (foul). They do a lot of jump fakes and all that stuff, so just stay on my feet, play defense and move my feet."
Spellman, a redshirt freshman who dropped 45 pounds since arriving on campus by focusing on his eating choices, said the most important keys in defending Azubuike are not allowing him to become comfortable with his post position and to keep him away from offensive rebounding opportunities.
He knows it's usually easier said than done when it comes to preventing lobs around the rim.
"You have to make sure you keep him off the offensive glass," Spellman said. "A lot of times he just pushes you under and gets offensive rebounds. I can't allow him to have a big offensive rebounding night against us on game day."
Spellman, who leads Villanova with 56 blocks, said he's not focusing on trying to force Azubuike into foul trouble — "I'm not trying to bait him into fouling me or play mind games with him." Azubuike fouled out in his last two games and had four fouls in KU's second-round win against Seton Hall.
For Azubuike, he's confident that his athleticism will allow him to defend Villanova's group of versatile forwards, highlighted by Spellman. Whether they try to post up near the bottom of the lane or force him to run along the perimeter, he's grateful for the chance to play in the Final Four.
"We always dreamed about this, man," Azubuike said. "Every kid that's in high school right now, that's planning on going to college, all they are dreaming about is making it to this stage; to be right where I am right now. It's a blessing."
---
More Kansas vs. Villanova matchups