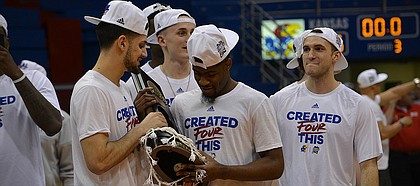 Fans filling Allen Fieldhouse after the Kansas basketball players returned to Lawrence with their regional championship trophy? That was cool. Stopped by several people to take photos at Walmart? It was funny.
The moment that caught Malik Newman off guard? It was something that he's never seen before. Walking out of McCarthy Hall, where the players live, Newman watched a car come to a complete stop in the middle of the street.
The driver of the car saw Newman, the man averaging 22.7 points since the start of the Big 12 Tournament, and that was more important than anywhere that person was going. The driver called Newman out to the middle of the road, just hoping for a picture and an autograph.
"It's definitely been nothing but love these last couple of days," said Newman, laughing at the memory.

Photo Gallery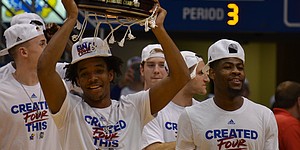 Kansas basketball team greets fans after Elite Eight victory
The Kansas basketball team greeted fans at Allen Fieldhouse after the team's 85-81 victory over Duke in Omaha, Neb. earlier in the day on Sunday, March 25, 2018. Approximately 4,000 fans were in attendance.
Welcome to life of a player in the Final Four. Used to playing in front of 16,300 fans at Allen Fieldhouse for each home game, all of the attention has jumped to another level.
Sitting on the bus on their trip back to Lawrence, after all of the partying in the locker room, the Jayhawks watched videos of the celebration around campus and across Mass Street. Devonte' Graham was familiar with some of it because he ran from campus to downtown Lawrence to celebrate the Kansas City Royals' World Series title in 2015.
Around 11 p.m. Sunday, several hours after an 85-81 win against Duke, the Jayhawks were greeted by thousands of fans at Allen Fieldhouse. Udoka Azubuike couldn't believe how full some of the sections of the crowd were.
"The fans were just crazy," KU freshman Silvio De Sousa said. "I've never seen something like that. I'm just so thankful for them. They alway support us with their hearts."
Speaking to the media Tuesday before their first practice to prepare for Villanova in Saturday's national semifinal (7:49 p.m., TBS), the Final Four appearance had yet to sink in for several of the Jayhawks.
All season, KU players focused on a goal of advancing past the Elite Eight — a game they lost in each of the last two seasons. Now that the Final Four has arrived, it's taking time for them to process their achievement.
"I've been excited ever since we won," Graham said. "That's all I've been talking about is I can't believe that we actually going to the Final Four."
Photo Gallery
Fans fill downtown Lawrence as KU heads to the Final Four
Thousands of KU basketball fans filled downtown Lawrence, Sunday, March 25, 2018, following the team's victory over Duke which will send them to the Final Four in the NCAA Tournament.
The list of messages for each player is endless. After scoring a game-high 32 points against Duke, including all 13 of KU's total in overtime, Newman said the comments on his Twitter and Instagram are "crazy." Graham said he received text messages from about all of his former teammates including Frank Mason III and even guys he never suited up with like Justin Wesley.
"It's still kind of unreal right now," Newman said.
Walking across campus on Tuesday morning, the Jayhawks were constantly cheered by fellow students. Newman estimated he took about 10 pictures with groups of fans.
Whether it's cars stopping in the streets, extra photo requests or anything in between, the Jayhawks are trying their best to savor all of it.
"(Coach Bill Self) told us it's going to be the best time of our life," Graham said. "He wants us to experience the best of the best."