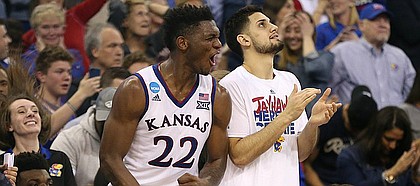 As special it is to play in his first Final Four this week, it's just as meaningful to Kansas freshman forward Silvio De Sousa that his parents will be in attendance for the first time in his collegiate career.
Helped by an NCAA program that will pay for families to travel to the Final Four, De Sousa's parents will make the 15-hour flight from Angola to the United States to watch De Sousa play on college's basketball biggest stage. He said it'll be the first time he's seen them in about a year.
Before the start of the Sweet 16, De Sousa told his mom that he wanted to bring her to the Final Four if they won their next two games. Sviatoslav Mykhailiuk said his parents will likely leave Ukraine on Thursday, arriving one day ahead of KU's Final Four game against Villanova at 7:49 p.m. Saturday in San Antonio.
"I'm just super excited for them to come over here and just be with them," De Sousa said.
Udoka Azubuike is hopeful that his mother can attend the Final Four from Nigeria, but Kansas coach Bill Self said the school is trying to work through "visa complications."
"She always dreamed about coming," Azubuike said. "She's never seen me play before. That would be nice to see her come over and watch me play."
Self added: "Everybody is working hard. Our staff is talking with all the proper political people to try to make something like that happen because we know how much that would mean to Udoka and his mother."
The NCAA started a pilot program in 2015 to help cover expenses for players' families traveling to the men's and women's Final Four. The NCAA will pay up to $3,000 total in travel, hotel and meal expenses for each student-athlete who competes in the national semifinal game and $4,000 for the national championship. The same program exists for football players in the College Football Playoff.
"Can you imagine a parent coming over here and has never seen a basketball game, a real basketball game like this, and that's the first time you see your son play?" Self said. "That would just be an unbelievable experience."
The Final Four is a new experience for KU players who didn't grow up watching it on TV. Growing up in Ukraine, Mykhailiuk said the only Final Four he knew was in the Euroleague. His parents, who don't speak much English, visited Allen Fieldhouse for their son's Senior Night on Feb. 26.
The last time Azubuike visited Nigeria, he said most people "didn't really know much about college basketball." But De Sousa said his family has recognized his accomplishments when he's talked to them on the phone.
"Every time I call my family just to talk to them, they always, always show me how much they are proud of me and how much they just love me," De Sousa said. "I think they're super proud of me."
Playing high school basketball at IMG Academy in Bradenton, Fla., De Sousa said he met friends but was lonely at times with the distance between his parents.
"Ever since I got to Kansas I feel like I have my family here," De Sousa said. "I have not felt lonely since I got to Kansas."
For players with families in the states or abroad, Self said it was a "great rule change" by the NCAA to help bring families together during the biggest games of their careers.
"I never knew that San Antonio was the most expensive place in America to fly into but it is right now," Self said. "Tickets, you can't get down there roundtrip for less than a $1,000 or $1,200 from Kansas City, so can you imagine what it would be like coming from Lagos (Nigeria) or from the Ukraine or from Angola. That's pretty cool they are helping with that."