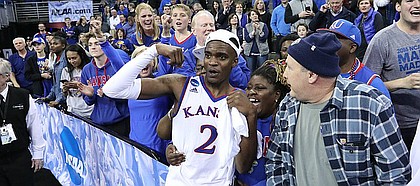 Omaha, Neb. — The celebration started at midcourt with about 10 seconds left on the clock and Malik Newman standing at the free-throw line. Lagerald Vick, with a smile whipped across his face, hugged Devonte' Graham on the March Madness logo and started to soak in all of his emotions.
After two failed attempts in the Elite Eight, Vick reached his goal of making it to the Final Four. He skipped around the court when the final buzzer sounded, jumping atop the table on press row. Standing 10 feet tall, maybe closer to a 100 feet in the moment, he let out a scream and waved his arms in the air.
Jumping down from the mountaintop, Vick chest bumped Chris Teahan and was the first player to enter the postgame handshake line. As tiring as KU's 85-81 overtime victory against Duke in the Elite Eight was — for players and fans — Vick was the most energized person during the net-cutting ceremony.
Forget that he played a career-high 41 minutes, producing 14 points on 6 of 16 shooting. He was singing along to DJ Khaled's jam "All I Do Is Win," raising his arms up during the chorus as the lyrics roared over the loudspeakers.
"We left it all out there," Vick said, "played team ball and we was able to get through that hump."
Photo Gallery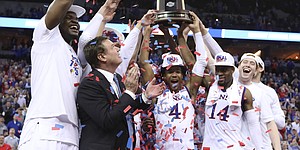 Kansas basketball v. Duke (Elite Eight)
View a gallery of images from Sunday's Elite Eight game between the Jayhawks and Blue Devils in Omaha.
Vick savored every moment of the postgame celebration. He hugged assistant coaches, teammates and family members, flexing for cameras. When the Memphis native took his turn climbing up the ladder to cut a piece of the net, he bobbed his head and shoulders to a song's bass that reverberated throughout the arena.
After cutting his piece of the net, he held it up for the section of the crowd that included his family while continuing to dance. When it was his turn to hold the Midwest Regional trophy, he cradled it knowing how much work over the last three years went into it.
"We were just playing for each other, leaving it all out there, moving the ball, guys just making plays," Vick said. "We were just out there playing."
Throughout the postseason, Vick has repeated that he wants to do anything to help out his teammates. They are the same guys who believed in him during his midseason slump. He prides himself on doing the small things, making plays that won't show up in a box score.
Against Duke's long 2-3 zone, he helped exploit the middle of the floor with his passing and a few floaters over the long arms of future NBA lottery picks Marvin Bagley III and Wendell Carter Jr. He was so valuable, he only sat for one minute after halftime. Malik Newman's go-ahead 3-pointer in overtime came on a pass from Vick, with Newman saying afterward, "It was all him."
"He cares about all the right things and I think they all do. I think they all care about the right things and that's why we're playing better," Kansas coach Bill Self said of Vick. "Lagerald was awesome tonight."
Photo Gallery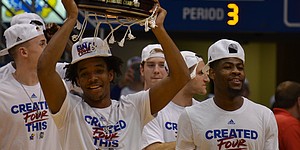 Kansas basketball team greets fans after Elite Eight victory
The Kansas basketball team greeted fans at Allen Fieldhouse after the team's 85-81 victory over Duke in Omaha, Neb. earlier in the day on Sunday, March 25, 2018. Approximately 4,000 fans were in attendance.
Perhaps the biggest change for Vick in the NCAA Tournament is that he's showing more of his personality. Never afraid to trash talk, he's taken it up a level. After he made a shot against Bagley, he wasn't afraid to let Duke's top player hear about it. He glared at Clemson's bench after a 3 in the Sweet 16.
Even when he's not talking to an opponent, he's always trying to hype himself up. When he drilled a 3-pointer against Duke, he ran back on defense saying, "OK, OK, OK."
"I feed off it pretty well," Vick said. "I bring energy. I don't really care what people say so I just smile and just keep playing."
Averaging 12.1 points on 43 percent shooting from behind the 3-point line since the start of the Big 12 Tournament, Vick credits his strong play to being "aggressive in everything" that he does on the court.
From trash talking to dancing, Vick feels back to himself. And the Jayhawks wouldn't be in the Final Four without him.
"Earlier in the season, I went through the slump," Vick said. "Everybody goes through those. I'm back on page now, so now we good."
---
More news and notes from Kansas vs. Duke
---