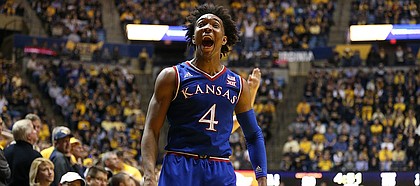 Oklahoma may very well have the national player of the year in freshman guard Trae Young, who leads the country in both scoring (27.5) and assists (8.9) per game.
But when it comes to the most valuable player in the Big 12 Conference, that man resides in Lawrence.
KU senior Devonte' Graham on Sunday was named the Big 12 Player of the Year after finishing the regular season with averages of 17.6 points, 7.2 assists and 4.0 rebounds per game while leading the Jayhawks to an NCAA-record 14th consecutive Big 12 title.
"I am so happy for Devonte'," KU coach Bill Self said Sunday. "He's played as big a role on this team I believe as any player that we've had since we've been here, on any team. Everyone inside the program knows it goes far past statistics. We're really happy for him. It's well deserved."
Graham, a second team all-Big 12 selection last season, was a unanimous pick for Big 12 Player of the Year by the conference's coaches. He becomes the eighth Jayhawk all-time to bring home the honor.
"To be selected for this by the conference coaches is an honor," Graham said. "It's good to see my fellow starters on the all-conference teams as well, as these awards are a total team effort."
Graham's assists average ranks fifth in the country. Never one to brag about himself or his own accomplishments, Graham was asked before Senior Night last week what he thought of his overall numbers. His answer?
"They sound pretty good," he said with a grin.
Graham becomes the second Jayhawk in a row to win the honor, following in Frank Mason III's footsteps from a season ago. It marks the third time that Kansas players have won Big 12 Player of the Year honors in back-to-back seasons. Marcus Morris and Thomas Robinson did it in 2011 and 2012, and Drew Gooden and Nick Collison did it in 2002 and 2003.
The senior from Raleigh, N.C., was the conference pick for preseason player of the year and did nothing along the way to change people's minds.
In addition to his impressive stat totals, Graham played all 40 minutes in 13 of the 18 Big 12 games on KU's schedule. He played 39 minutes in two others.
That feat is made even more impressive when looking at Graham's role on this team. He's the only player on KU's roster who can play the point guard position to Self's liking and often was asked to guard the opponent's best player, as well.
Asked about his big season, Graham said it did not come as a surprise because of his expectations.
"I feel like I knew I had it in me, just being in the position I'm in and knowing how much coach believed in me," Graham said. "Just going out each night and just competing (was the goal). It doesn't matter if I score five points, one point, I just want to win. And I feel like me shooting the ball and having to score is a part of helping us win so that's just what I tried to do, just being aggressive."
In other Big 12 honors news Sunday:
• KU coach Bill Self was named the conference's co-coach of the year for the second season in a row. Self shares the award with Texas Tech's Chris Beard this season and now has been named Big 12 Coach of the Year in six of his 15 seasons with the Jayhawks.
• Like Graham with the preseason player of the year honor, KU sophomore Malik Newman also made good on his preseason pick as newcomer of the year by earning the award after all was said and done. Newman averaged 12 points, 4.9 rebounds and shot 37 percent from 3-point range for the Jayhawks during his first season in Lawrence. He delivered four 20-point games while starting 25 of 31 games and averaging 30.4 minutes per outing. Newman headlined the Big 12's all-newcomer team, which also included Young, Texas' Mo Babma, Iowa State's Lindell Wigginton and Texas Tech's Zhaire Smith.
• Graham also landed on the all-Big 12 first team, joining OU's Young, Texas Tech's Keenan Evans, West Virginia's Jevon Carter and Kansas State's Dean Wade.
• Fellow senior Svi Mykhailiuk earned a spot on the all-Big 12 second team, after finishing as KU's second leading scorer (15.3 ppg) and helping Graham lead the Jayhawks to another Big 12 title. Mykhailiuk, who shot 44 percent from 3-point range, also was second on the team in minutes played and chipped in with 4 rebounds per game. He joins UT's Bamba, K-State's Barry Brown, TCU's Kenrich Williams and Baylor's Manu Lecomte on the second team.
• KU sophomore Udoka Azubuike, who operated all season as the team's lone true big man, landed on the all-Big 12 third team. Azubuike, who finished the regular season leading the conference and the country in field goal percentage, at 77.4 percent, averaged 13.7 points and 7.1 rebounds per game in 24.7 minutes while also leading the Jayhawks with 55 blocks. He joins Baylor's Jo Lual-Acuil, West Virginia's Sagaba Konate, TCU's Vlad Brodziansky and Oklahoma State's Jeffrey Carroll on the third team.
• KU junior Lagerald Vick also received an honorable mention all-Big 12 nod after finishing fourth on the team in scoring at 12.2 points per game and adding 5 rebounds per night in 32.8 minutes.
"I think Svi deserved his second-team honors, he's had a tremendous senior year," Self said. "'Dok being recognized on the third team is nice by other coaches. I was hopeful that he may sneak on the second team but certainly understand with the depth and quality of players in our league. It was nice to see Malik as the newcomer of the year and on the all-newcomer team and Lagerald to receive votes for honorable mention."
Big 12 Players of the Year from Kansas:
• Devonte' Graham, 2018
• Frank Mason III, 2017
• Thomas Robinson, 2012
• Marcus Morris, 2011
• Wayne Simien, 2005
• Nick Collison, 2003
• Drew Gooden, 2002
• Raef LaFrentz, 1997
2017-18 All-Big 12 Team
(As selected conference coaches; unanimous selection)
Player of the Year - Devonte' Graham, Kansas (Sr., G)
Defensive Player of the Year - Jevon Carter, West Virginia (Sr., G)
Newcomer of the Year - Malik Newman, Kansas (R-So., G)
Freshman of the Year - Trae Young, Oklahoma (Fr., G)
Sixth Man Award - Terry Maston, Baylor (Sr., F)
co-Coach of the Year - Bill Self, Kansas; Chris Beard, Texas Tech
All-Big 12 First Team
Devonte' Graham, Kansas (Sr., G)
Dean Wade, Kansas State (Jr., F)
Trae Young, Oklahoma (Fr., G)
Keenan Evans, Texas Tech (Sr., G)
Jevon Carter, West Virginia (Sr., G)
All-Big 12 Second Team
Manu Lecomte, Baylor (Sr., G)
Sviatoslav Mykhailiuk, Kansas (Sr., G)
Barry Brown Jr., Kansas State (Jr., G)
Kenrich Williams, TCU (Sr., F)
Mohamed Bamba, Texas (Fr., F)
All-Big 12 Third Team
Jo Lual-Acuil Jr., Baylor (Sr., C)
Udoka Azubuike, Kansas (So., C)
Jeffrey Carroll, Oklahoma State (Sr., G)
Vladimir Brodziansky, TCU (Sr., F)
Sagaba Konate, West Virginia (So., F)
All-Big 12 Honorable Mention
Cameron Lard (Iowa State), Donovan Jackson (Iowa State), Lindell Wigginton (Iowa State), Lagerald Vick (Kansas), Matt Coleman (Texas), Dylan Osetkowski (Texas), Kerwin Roach II (Texas), Zhaire Smith (Texas Tech)
Big 12 All-Defensive Team
Barry Brown Jr., Kansas State (Jr., G)
Mohamed Bamba, Texas (Fr., F)
Sagaba Konate, West Virginia (So., F)
Jevon Carter, West Virginia (Sr., G)
Zhaire Smith, Texas Tech (Fr., G)
Big 12 All-Newcomer Team
Lindell Wigginton, Iowa State (Fr., G)
Malik Newman, Kansas (R-So., G)
Trae Young, Oklahoma (Fr., G)
Mohamed Bamba, Texas (Fr., F)
Zhaire Smith, Texas Tech (Fr., G)
KU's Conference Players of the Year
Big Eight
Dave Robisch (1970, 1971)
Bud Stallworth (1972)
Danny Manning (1986, 1987, 1988)
Jacque Vaughn (1996)
Big 12
Raef LaFrentz (1997, 1998)
Drew Gooden (2002)
Nick Collison (2003)
Wayne Simien (2005)
Marcus Morris (2011)
Thomas Robinson (2012)
Frank Mason III (2017)
Devonte' Graham (2018)
KU's Conference Newcomer of the Year
Big Eight
Vernon Vanoy (1967)
John Douglas (1977)
Darnell Valentine (1978)
Danny Manning (1985)
Rick Calloway (1990)
Rex Walters (1992)
Jacque Vaughn (1994)
Jerod Haase (1995)
Big 12
Malik Newman (2018)
KU's Conference Coaches of the Year (incudes wire services and ties)
Dick Harp (1960)
Ted Owens (1967, 1971, 1974, 1978)
Larry Brown (1986)
Roy Williams (1990, 1992, 1995, 1996, 1997, 2002, 2003)
Bill Self (2006, 2009, 2011, 2012, 2015, 2016, 2017, 2018)