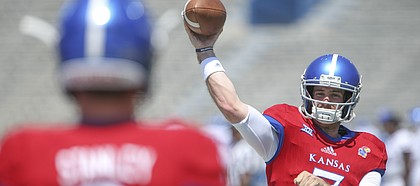 Nobody knows the identity of the starting quarterback for the upcoming Kansas football season. Nothing new there. That has been the case pretty much every summer since gunslinger Todd Reesing hopped on his horse and rode it back to Austin.
The problem, I fear, is that few care anymore as to the identity of the winner of the quarterback derby, which this time has three contestants.
It's as quiet a KU football offseason as I can recall since we moved to Kansas in August of 2005.
The gap in interest between basketball and football feels greater than ever. It's almost as if the most effective way to get somebody to talk about football is by drawing some sort of comparison to the basketball team. So I'll get that out of the way first by inviting you to ponder this question: Which team could field a better offensive line, KU football or KU basketball?
Easy. The football team, but the fact that you actually thought about it long enough to put Udoka Azubuike and David McCormack at the tackle spots says plenty.
In an effort — probably a futile one — to generate interest in the upcoming football season, I'll take a stab at trying to guess the 11 starters on offense and 11 on defense for David Beaty's fourth season-opener, this one vs. Nicholls State, 6 p.m. kickoff on Sept. 1.
Offense:
Quarterback: Peyton Bender, senior; Running back: Khalil Herbert, junior; Outside receivers: Steven Sims, senior, and Evan Fairs, junior; Inside receivers: Kerr Johnson, senior, and Quan Hampton, sophomore; Left tackle: Hakeem Adeniji, junior; Left guard: Malik Clark, sophomore; Center: Andru Tovi, junior; Right guard: Chris Hughes, sophomore; Right tackle: Kevin Feder, senior.
If a tight end is on the field for the first offensive play of the season, my guess is it will be James Sosinski, who scored six points in nine minutes for the basketball team.
Tough, tough call at quarterback, but since Bender started eight games last season, compared to four for Carter Stanley, that gives him the edge over Stanley because the same coaches will be making the decisions. The tougher call is whether junior college transfer Miles Kendrick can beat him out to start the season. He's far more mobile than Bender and has impressed the coaching staff with his Type-A personality and Grade-A brain, qualities that make him a natural leader. If Kendrick wins the job and it's announced a couple of weeks before the opener, it's possible curiosity over a never-seen QB could bring some KU football fans out of hibernation.
Also, curiosity over true freshman running back Pooka Williams from Louisiana could motivate local football fans to visit the ticket window.
It's possible that one or two offensive linemen who were not yet in the program during the spring could win starting jobs. Adeniji, Tovi and Chris Hughes are the safest best to earn starting jobs on the O-line.
Defense:
Nose tackle: J.J. Holmes, senior; Defensive ends: Daniel Wise, senior, and Foster Dixson, junior; Linebackers: Joe Dineen, senior, Denzel Feaster, junior, Kyron Johnson, sophomore; Nickelback: Bryce Torneden, junior; Safeties: Mike Lee, junior, and Tyrone Miller, senior; Cornerbacks: Shakial Taylor, senior; Hasan Defense, junior.
Kansas identified which recruits from junior college it wanted to sign to improve the depth of the defense and landed most of its targets. As a result, intense battles will be waged in practice to try to earn spots on the two-deep chart.
Isi Holani and Holmes will alternate at nose tackle. Wise has one D-End spot locked down in the three-man front KU will use as its base defense. Several competitors will vie for snaps at the other spot next to the nose tackle, including Dixson, Willie McCaleb and Keyshaun Simmons.
Kyron Johnson and Najee Stevens-McKenzie will be among those vying for snaps at the hybrid defensive end/outside linebacker spot, and Feaster, Osaze Ogbebor and Keith Loneker will compete for snaps at linebacker.
All five starters return in the secondary, but that doesn't necessarily mean they'll earn the majority of the starts. At safety, Emmanuel Moore and juco teammates Davon Ferguson and Jeremiah McCullough will battle for snaps. Redshirt freshman Robert Topps backs up Torneden at nickel, and the most crucial battles will take place at cornerback.
Based on schools that showed interest in them at various points in recruiting, the two most talented defensive backs in the program are newcomers at cornerback. Can true freshman Corione Harris and juco transfer Elijah Johnson show enough over the summer to win starting jobs vs. Nicholls State? Possibly.
Taylor was praised for a strong spring. Defense's ticket to keeping his job lies in showing that he can stick to his assignments and not go off script forever in search of the big play. A defense can never have too many reliable corners to face Big 12 offenses, so it was encouraging to hear that junior Kyle Mayberry made strides during spring football.
Defensively, the team's depth definitely is much improved. Loading up on recruits from junior colleges will make Kansas better this season, but since it won't result in anything close to a bowl-eligibility season, it amounts to short-term gain that augments long-term pain.
Maybe the lack of a plan that builds toward a sustainable better future for KU football is as much to blame as anything for the lack of enthusiasm from the fan base.