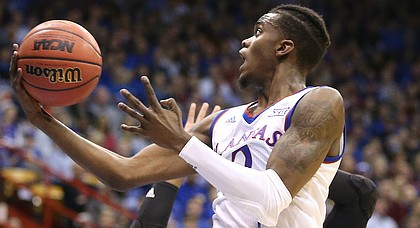 Kansas basketball coach Bill Self on Tuesday stopped short of saying that the door was completely closed for Lagerald Vick to return to Kansas for his senior season.
And it's clear, at least as of Tuesday, that Self and Vick will sit down for a conversation about the Memphis native's options and desires in the coming days. But whether that meeting leads to the 6-foot-5 guard rejoining the Jayhawks for one more run is uncertain.
"I think we owe it to each other to at least sit down and visit," Self said Tuesday afternoon during a joint news conference with recent gold medalist and KU freshman Quentin Grimes. "We've been through too much together (in) three years and had quite a bit of success, and I think we definitely need to do that."
Because the 2018-19 Kansas basketball roster features just 12 scholarship players, Self has the option to add another player via scholarship. And on paper, the idea of giving that scholarship to a player of Vick's caliber and experience certainly would make sense.
In three seasons with KU, the Memphis native, who played a key role in the Final Four and Elite Eight teams of the past two seasons, appeared in 94 games and made 41 starts.
For a team that does not currently have a single senior on its roster, that kind of experience and veteran presence certainly could look appealing. But that's why the conversation needs to happen.
Self reiterated Tuesday that when Vick elected to leave KU early and declare for the NBA draft in April — he since has officially pulled his name out and did so by the deadline and without hiring an agent to retain his college eligibility — the move was made with the understanding by both parties that it would close the book on his KU career.
"Nothing, as of now, has changed in my mind," Self said Tuesday. "We recruited with the idea of him not being here. We signed a young man late with the idea of him not being here. So there's some things we'll have to talk about. ... It has been cut and dry in my eye. Maybe not in their eyes."
Self, who returned to Lawrence on Sunday night from his stint as the head coach of the U18 USA Basketball gold medal team, said he had talked "very briefly" with Vick and his mother, LaLa Vick, while adding that he wanted to get settled back home before setting up a meeting.
He said that meeting would take place "hopefully in the near future," and added that he probably has as many questions as Vick and his family.
"We like Lagerald and the thought was, when he declared, that his time at KU would be done either way," Self said. "So that's something that I'll visit with him and his mother about. But at this point in time, it hasn't been decided, nor has he told us positively or whatever (that he wants to come back). I just think he wants to be able to sit down with us and be able to go over future options and if there are any here.
"We'll see what happens here. But no hurry. I don't think it's anything where you guys should ask every day where this is because, as of right now, nothing has changed from what it was when we ended the season."