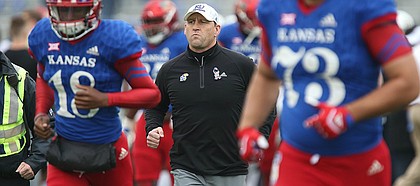 The summer of 2017 was one of hope for Kansas football.
For a team coming off a two-win season, the Jayhawks had as much positive buzz surrounding them as such a program could wish for, thanks in large part to a late-2016 overtime victory against Texas, which broke a 19-game Big 12 losing streak.
A year later, at least for those not personally invested in the successes and failures of the team, a similar sense of interest in KU football likely doesn't reverberate much outside of the Lawrence city limits.
That's just fine with David Beaty.
KU's head coach admitted this past spring he recognized the advantages of entering his fourth season in charge with the team going mostly undetected and disregarded.
"I think there's always something to kind of being the underdog and living that underdog lifestyle, flying under the radar when you don't have anything to fly over the radar on right now," Beaty said.
To his point, through three seasons, KU's 2016 home win over Texas remains the program's lone FBS victory under Beaty's watch.
"When we produce something to have an above-the-radar team, then we'll let people decide that on the outside," said Beaty, who enters 2018 with a 3-33 record leading the Jayhawks.
Outsiders presumably will go right on ignoring KU until the team at least defeats another FBS or Big 12 opponent.
Until that happens, redshirt senior linebacker Joe Dineen agreed with Beaty's assessment that the Jayhawks should benefit from their status as one of the least talked about teams in the country.
"I don't ever really pay attention to the hype and stuff surrounding any program, especially ours. But I think to be under the radar is good," Dineen said, "because you've got nothing to lose. In some situations, that's a pretty good mentality to go in with. I think that's a positive."
The collective outlook of KU's most experienced players remains one of optimism. Seniors such as Dineen, Steven Sims Jr., Daniel Wise and Jeremiah Booker would love to begin pivoting the program back in the direction of prosperity before they leave.
Sims said he and other seniors aim to win more in 2018 than they have in any of their previous seasons at Kansas.
"We feel like we're the guys who came in and we have to turn the culture around here at KU," Sims said. "And I feel like we've done that, but we have to put it out on the field. It's got to bring in wins, and this is a big year for us. We've got to come up with wins. We can't come up short."
They also can't bother wasting their time, Beaty said, worrying about what nonmembers of the team think of them. Whether the Jayhawks are looked down on — or mostly ignored — will have no bearing when it comes to the team's results.
"From our standpoint, we just worry about who we are this next play," Beaty began, "who we are from a toughness standpoint. Are we a tough team? Are we a smart team? Are we a physical team? Do we give ourselves a chance to win, or do we not?"
Whether the directive initiated from Beaty or elsewhere, it's clear the 2018 Jayhawks aren't trying to fuel their own hype machine the way both the head coach and some players did only a year ago.
"Talk gets you exactly nowhere," Beaty said. "You have to go out there and do it, and we said before we started last year that the momentum coming off the end of the season previous, all it did was give us a chance, right. All the work we did in the offseason, that just gives you the chance. You don't do that, you have no shot. Everybody is doing that. Then it comes down to who executes it best, who plays best, who's smart and who commits the most to be able to accomplish their goals."
KU opens its season Sept. 1 versus Nicholls State, an FCS program that finished 8-4 in 2017.