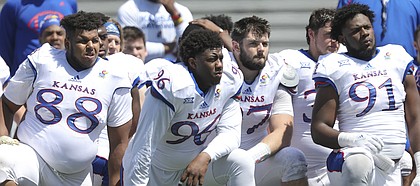 If you're a college football coach fighting for your job, you have to take at least a little comfort in knowing that, if all the players you have in camp qualify academically and stick around, you'll have a roster stocked with 47 juniors and seniors recruited on scholarship, as compared to 25 freshmen and sophomores.
If the long-term view is the relevant one, such numbers are horrifying. Yet, when analyzing everything through the prism of what's best for this season's 12-game schedule, the imbalance is encouraging.
Ideally, you would want most of those juniors and seniors to have spent four or five years bonding and learning the same system, but let's not get greedy. Just 23 of the 47 upperclassmen expected to suit up this season were recruited to Kansas out of high school. Still, they're grown men, physically mature, hungry to prove they can play the game.
Fourth-year Kansas football coach David Beaty and his staff gave themselves the best shot at survival beyond the upcoming season by identifying areas of need, mostly on defense, to be addressed with players from junior college. They evaluated which players they wanted and landed a stunningly high percentage of them.
The defense, especially if the offense takes its time snapping the ball and takes a run-first, move-the-chains approach, should be deeper, more rested, more talented, more experienced, quite a bit better.
That twins up nicely with the general feeling that Big 12 offenses won't be as explosive as usual because so many teams are breaking in new quarterbacks.
Kansas lost by an average 32 points in Big 12 games a year ago, so that's a huge gap to close. But a better defense facing offenses not as dominant means the gap should narrow some.
Beaty wasn't about to surrender his job by recruiting for the future with a 3-33 record. It will be interesting to hear about which of the juco defensive linemen and defensive backs stand out the most once practice begins Aug. 1. For instance, keep an ear out for chatter about cornerback Elijah Jones, a serious talent.
It's too late to fret about it now, but it's a shame Beaty didn't show similar restraint in exercising a long-term recruiting plan in the manner Baylor's second-year coach Matt Ruhle has.
It's mind-blowing to think of what a head start Baylor has on Kansas for the 2020 and 2021 seasons. But if Beaty doesn't show significant progress in 2018, there won't even be a 2019 for him at Kansas, so 2020 and 2021 weren't at the forefront of his recruiting concerns this past offseason.
Kansas recruited just seven freshmen from the Class of 2018, but two were among the highest recruited in school history and will be counted on to help immediately.
Running back Pooka Williams and cornerback Corione Harris, both from the great football state of Louisiana, turned down Mississippi State and other high-powered programs to come to Kansas. By the time they're seniors, they will have four years of effort and relationships invested in the Kansas uniform. They won't have as many four-year friendships with players as Baylor's freshmen will, though, because the revolving roster door that spins junior college players in and out at Kansas makes it that way. Although the quality of the friendships might not be as deep, the KU players will have a greater quantity of them, if that's any consolation.
No substitute for growing together and bonding over four years as one unit of comrades for making the whole perform greater than the sum of its parts, of course, but again, let's not get greedy.
It's easy to see how it happened with the latest class. Just about any coach saddled with a 3-33 record and unrestricted by bosses as to how to build the program would have taken a win-now approach.
If it doesn't work and Kansas doesn't win more games this season than it did in the first three years combined under Beaty, the coach will be gone. The recruiting tactic will have backfired, but into the face of his successor, which won't be Beaty's mess to clean up as he hits the job market with a $3 million parachute.
New athletic director Jeff Long, of course, hopes the win-now recruiting pays off with KU's best season since Mark Mangino (50-48) was the coach. That way, Long doesn't need to pay for a new coaching staff so soon. But of course, Long will be prepared for all scenarios. He wasn't recruited to maintain the status quo.