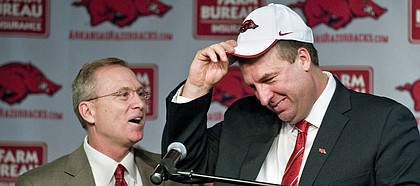 Fundraising, facilities upgrades, running a department in a cost-efficient, classy manner, compliance, hiring coaches in non-revenue sports, those all are important aspects of any athletic director's job.
But in the end, the way most ADs are remembered is by the performance of the football coaches they hire.
New Kansas athletic director Jeff Long has made three football hires and one interim hire during his 15 years as an athletic director at University of Pittsburgh and Arkansas.
A look at how each went of those hires went for the universities:
Dave Wannstedt (42-31): Long brought the former Chicago Bears and Miami Dolphins head coach back to his alma mater to replace Walt Harris.
Things got off to a shaky start for Wannstedt, whose team did not make it to a bowl game in his first three seasons. Once the majority of the roster was filled with his recruits, the program took off, just after Long had left for Arkansas. Wannstedt rattled off consecutive records of 9-4 and 10-3, generating a great deal of enthusiasm for the 2010 season.
If Long had still been on the job, there is no knowing how long Wannstedt would have stayed or how well the Panthers would have done. He might still be there today, going to bowl games every year.
Long's successor, Steve Pederson, clashed with the former NFL coach and leapt at his first chance to fire him, letting him go after a 7-5 record and didn't let him coach the bowl game Pitt won.
Wannstedt, who had heavily recruited local talent, had the Pitt program humming and his firing was difficult to attribute to anything but a personality clash with the AD. Grade: B
Bobby Petrino (34-17): Petrino was purring along like an A+ hire, bringing Arkansas to a level of success it hadn't experienced in roughly a quarter of a century.
The program steadily grew under his leadership. The Hogs went 5-7, 8-5, 10-3, 11-2 and then it all came crashing down.
Literally.
Six Aprils ago, Petrino's motorcycle crashed on an Arkansas highway. When the coach discovered that a police report was going to come out that would reveal that a former All-SEC volleyball player had been riding with him, Petrino amended his original lie that he had been riding alone. Not only that, he revealed that he had been involved in an ongoing extramarital affair with the young woman, then 26, who was working for the football program.
Long conducted an investigation, the outcome of which was Petrino's firing.
A case could be made that Long should have known he was dealing with a shady character because Petrino left the Atlanta Falcons with three games remaining in the season to take the Arkansas job. OK, but how about giving Long credit for pouncing on a terrific candidate before anyone else had a chance? It sure looked like a great hire until Petrino wasn't able to control his desires. Then again, perhaps at the time Petrino considered the young woman to be his soulmate, in which case of course, all is forgiven. Not really. It cost him his job. Grade: B
Interim John L. Smith (4-8): Smith served as special teams coach for Petrino and then left to become head coach at his alma mater, Weber State. Then after Petrino lost control of his motorcycle, among other things, Smith returned to Arkansas, four months after he left, to become interim head coach.
The thinking must have been that Petrino had the program in great shape, so the best place to turn for at least a year was to someone who once was Petrino's boss and then was assistant. It flopped badly and Smith was not retained. Grade: F
Bret Bielema (29-34): The proper formula for judging a hire in any sport requires putting absolutely no weight on winning or losing the press conference and a whole lot of weight on winning or losing football games.
Woo, pig sooie, were those fans excited that Long was able to steal Bret Bielema from Wisconsin, where unbeknownst to many in Arkansas the football coach's relationship with AD Barry Alvarez had soured.
"None of you will know how excited I am to stand here before you today to introduce the next head football coach at the University of Arkansas," Long said near the beginning of Bielema's introductory press conference.
The numbers Bielema rattled off made it easy to see why he felt that way. In seven years at Wisconsin, Bielema coached his team to five New Years' Day bowl games, including three Rose Bowls, and had won two Big Ten titles.
Not only that, Bielema grew up on a pig farm.
End of the perfect fit. Beginning of a bad hire badly compounded by an unnecessary extension that ultimately led to Long's firing at Arkansas.
The signature bad-fit sign for Bielema came in the aftermath of Texas Tech's 35-24 victory in Fayetteville over the Hogs early in the 2015 season.
Tech coach Kliff Kingsbury didn't hold back in blasting Bielema: "At the Texas High School Coaches Convention this summer he stood up and said if you don't play with a fullback, we'll kick your (behind). If you throw the ball 70 times, we'll kick your (behind).' He just got his (behind) kicked twice in a row and probably next week by A&M; as well, so that did feel good."
Losing the game and getting blasted by the opposing coach wasn't the primary problem. Mocking the preferred offense of the majority of Texas high school football coaches was the issue. Arkansas is only as good as its Texas recruits.
Bielema had a 10-15 record two seasons into the job and thus had no leverage when Long rewarded him with a two-year contract extension, which led to Arkansas eventually paying Bielema $11.395 million to leave town a couple of weeks after Long was fired.
At the time of the firing, Arkansas chancellor Joe Steinmetz wrote that Long, over his final year on the job, "lost the support of many of our fans, alumni, key supporters and members of the university leadership, support that I believe is critical in our pursuit of excellence. Grade: F
Now Long, who could have stayed at home and been paid $1 million a year from Arkansas through 2022, resets his career at $1.5 million per year.
His connections will come in handy in keeping Kansas in the know on conference-realignment issues. His administrative skills should enable the department to run efficiently.
And if he is able to identify the right fit for Kansas football, once that vacancy is created, money that's been on the sidelines, waiting to be spent when football shows signs of life, will come pouring in.
Making the right hire is required for that to happen.
Call me an eternal optimist — you always do — but I have a feeling Long and KU are going to get it right this time.