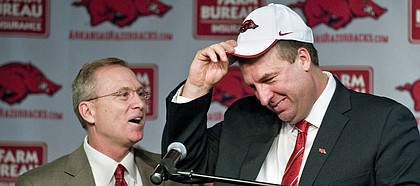 Kudos to the Kansas athletic department for not pretending David Beaty is anything but a lame-duck football coach who at the longest will last through the 2018 season.
KU all but cemented his lame-duck status by including in the news release on new athletic director Jeff Long a statement from basketball coach Bill Self and not one from the football coach.
Either that or KU considers itself a basketball school first, a football school as an afterthought. Not buying that because if that were the case, Sheahon Zenger still would be on the job.
So now that lame-duck unofficially has been added to Beaty's title, it's no longer tacky to speculate on the identity of the school's next football coach.
So let's all roll up our sleeves and get to work on that.
Athletic directors tend not to want to introduce football coaches they already have hired because they like to avoid criticism for lacking originality, vision, contacts, etc.
Should Long go about his job the way most of his colleagues do, cross off Dave Wannstedt, fired in order by the Chicago Bears, Miami Dolphins and University of Pittsburgh. Forget Louisville's Bobby Petrino, a terrific football coach fired by Arkansas for, ahem, strange off-the-field behavior, and Bret Bielema, fired by Arkansas after receiving a lucrative contract extension with a 10-15 record.
So just in case Long doesn't go back to the same well, look for connections that run even deeper than those to coaches he already has chosen.
How's this for long Long history: Friends since childhood, Long and former Michigan and Ball State head coach Brady Hoke formed a battery back in the day for Fairmont East High in Kettering, Ohio, in both football and baseball.
Long was a quarterback and a pitcher, Hoke a center and a catcher. When Long was dealing with the Petrino mess, Hoke, then head coach at Michigan, called him to make sure he was doing OK. So they're close. That's far from from making Hoke a candidate for the job that will open up at the end of the 2018 season, if not sooner.
Yet, another factor weighs heavily in Hoke's favor: He was far better at turning losing programs into winners than at maintaining a winner at blue blood Michigan.
Hoke's records at Ball State (2003-08): 4-8, 2-9, 4-7, 5-7, 7-6, 12-1. At San Diego State: 4-8, 9-4.
At Michigan (2011-14): 11-2, 8-5, 7-6, 5-7.
Hoke went 0-2 at the end of last season as interim head coach at Tennessee, where he was defensive line coach in 2017. The Carolina Panthers hired him as defensive line coach this past January.
Hoke, by the way, was instrumental in recruiting Tom Brady to Michigan, or have you had your fill of Kansas football coaches referencing connections to the most successful quarterback in the history of football?
Long also is tight with Les Miles, former LSU coach. He offered him the Arkansas job, only to be turned down.
Every time Miles was heard from in the television broadcast booth last season, he sounded as if he was not done coaching college football. I would love to know if Long brought up his name during the interview process.
Miles was in the booth for one of the worst performances in KU football history, the 41-0 loss to TCU in which the Jayhawks totaled 21 yards of offense. He had to leave there convinced he could have coached the team to at least twice as many total yards.
A name such as Miles would excite the Kansas fan base, of course, but Long will be looking for the best fit, which may or may not be Miles.
Head coaches Neal Brown (Troy), Troy Calhoun (Air Force), Jason Candle (Toledo), Willie Fritz (Tulane) and assistant coaches Tim Beck (Texas), Ed Warinner (Michigan) and Brent Venables (Clemson DC, at Oklahoma the year Long was there) all have impressive backgrounds.
Long has many other aspects of the athletic department to straighten out, but his legacy will be determined by how he fares in hiring a football coach.