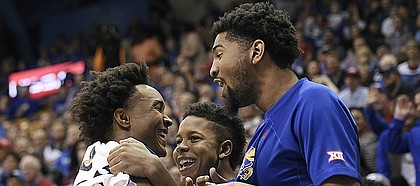 Traveling to the Final Four in the final week of March, Kansas transfer Dedric Lawson experienced nearly everything that he teammates did. Except he never had to a chance to suit up for a game.
For the first time in his basketball career, he was forced to sit out for an entire season. It was an adjustment for himself, his brother, K.J. Lawson, and Charlie Moore, fellow transfers who are hopeful they can make a big impact in the upcoming 2018-19 season.
Looking back at the redshirt experience, Lawson joked about the difference between Memphis and Kansas City barbecue, but admitted it's been a transition moving away from home for the first time. He believes he's more mature than when he first arrived in Lawrence, transforming his body by eating more healthy.
On the court, he said he enjoyed his time playing on the scout team. His favorite times were when he could emulate an opposing team's forward who had the green light to shoot from anywhere on the floor like Mo Bamba (Texas), Dean Wade (Kansas State) and Omari Spellman (Villanova).
"The practices be just as much competitive as the games," Dedric Lawson said. "Coach (Bill Self) pushes us."
Dedric Lawson, listed at 6-foot-9, 230 pounds, was a first-team all-American Athletic Conference selection in 2017, averaging 19.2 points, 9.9 rebounds and 2.1 blocks. Speaking about the team's transfers at the end of the regular season, Self said there were times when Lawson was the toughest player to guard in practice.
Tasked with matching up against centers Udoka Azubuike and Silvio De Sousa on a daily basis, Lawson said he improved his post defense.
"They are big guys and they are athletic," Dedric Lawson said. "That's been very good for me. For them guarding me, I dribble the ball and am mobile. It's really been helping all three of us develop as players."
During the NCAA Tournament, Malik Newman, who averaged 22.5 points in KU's final eight games, said it wasn't difficult to redshirt for the entire 2016-17 season until game days arrived. That's when he wished he could've suited up with the guys he practiced against daily.
"I definitely feel the same way," Moore said. "You're doing basically everything until the game coming up and not playing."
Moore said he's a different type of guard than Newman, Devonte' Graham or Lagerald Vick. He averaged 12.2 points and 3.5 assists at Cal, shooting 35.2 percent from the 3-point line.
K.J. Lawson, who considers himself "strictly a guard," said he stands out with his versatility. The 6-foot-8, 205-pounder averaged 12.3 points, 8.1 rebounds and 2.8 assists in his last year with Memphis.
Watching from the bench during games, K.J. Lawson did his best to soak in all of the experiences at Allen Fieldhouse and in the Final Four.
"I kind of turned into a fan of those guys," K.J. Lawson said. "Just try to enjoy the moment because when you're playing, times go fast and you don't really live in the moment as much."
All three players signed an NCAA waiver to travel with the team to San Antonio for the Final Four. Usually the Lawson brothers and Charlie Moore would climb in a car together to travel to nearby road games.
The trio of transfers said they didn't know they were allowed to travel to San Antonio until a couple of days before the team's flight to Texas.
Sitting in the locker room at the Alamodome, K.J. Lawson said he thought it was a reward for all of the transfers' hard work throughout the year. Each practice they were given the role of making their teammates better, even if they didn't have the opportunity to shine in games.
"It's getting closer to your time," K.J. Lawson said of traveling to the Final Four. "You realize, OK, we're back in the traveling mode and we're back with the team. It's great to be a part of."