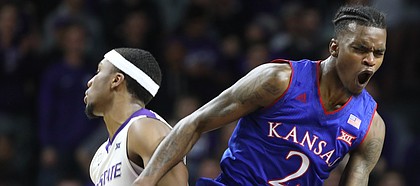 Manhattan — In the high-stakes world of Big 12 basketball, turnovers and 3-pointers are extremely valuable currency in every gymnasium and arena on the five-state conference map.
But nothing is worth quite as much as a nasty defense.
Monday night, at an electric and jam-packed Bramlage Coliseum, the Jayhawks used portions of each strength, in good stretches and bad, to plow past second-place Kansas State, 70-56, in a game the Jayhawks led for 37:29 and trailed just once, at 2-0.
In executing one of their best 2-3 zone defenses of the season for extended minutes, the Jayhawks (18-4 overall, 7-2 Big 12) looked the part of a puppet master when sitting in that zone, so often choosing what K-State would get and when it would get it, instead of allowing the Wildcats to run their offense the way they wanted to.
Photo Gallery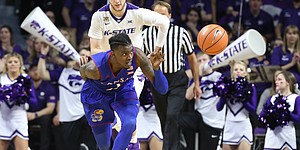 Kansas basketball v. Kansas State
View a gallery from Monday night's game between the Jayhawks and Wildcats in Manhattan, Kan.
The zone not only neutralized K-State star Dean Wade, limiting him to just seven points in the final 25:38 of Monday's game, but also caught the Wildcats off guard.
Asked after the loss how much time the Wildcats (16-6, 5-4) spent preparing for KU's zone, flummoxed K-State coach Bruce Weber said, simply, "None. They haven't played zone.
"Obviously they got in foul trouble but we've gone against the zone the last time Baylor zoned us. We carved it apart, 7 out of 8 (from 3-point range), whatever it was. Move the basketball, it was one of the best zone clinics I've ever been a part of. For the whole game, we just didn't have great rhythm. I told the guys we had to play better than we did in Lawrence, because they are a great road team. They've got good poise. They understand each other and their roles. I expected them to come at us and they did."
Added KU senior Devonte' Graham of the Jayhawks' zone: "I think the zone won us the game. We work on it every day in practice just in case we need it and, tonight, we needed it."
It was all 3-pointers and turnovers early for the Jayhawks, who got three triples from three different players and raced out to an 11-2 lead in the game's first 3:40, forcing Weber to call timeout.
Related document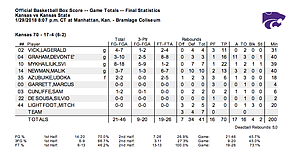 After each make, Graham, who hit the first of the three, let out a wild yell of, "Boom!" in celebration.
The first scream was toward the direction of the K-State bench. The second went in the direction of teammate Lagerald Vick, who buried his trey from the corner off of a sharp pass by Graham. And the last was sent toward the K-State student section after a 3-pointer by Svi Mykhailiuk from the opposite corner.
After that one, K-State coach Weber called timeout and tried to refocus his team. Later in the half, after a Graham 3-pointer right in front of the K-State bench, Weber looked, saw Graham was all alone, and turned his head away from the play, unable to even watch Graham release the ball.
The shot went in, KU's lead grew and the Wildcats remained in a deep hole.
"This is his last time being able to play here, so emotions were high for him," sophomore running mate Malik Newman said of Graham's early energy. "He always has great personality so it's just something we expect out of him. Nothing unusual at all."
The Wildcats, whether trying to match the Jayhawks or not, were ice cold from the outside and too often settled for 3-point jumpers of their own.
While the Jayhawks hit six of their first seven 3-pointers on the night, the Wildcats missed their first five and made just six of 27. That not only limited the damage done by KU's 12 first-half turnovers, but also helped Kansas win the rebounding battle (41-31) for the first time in 11 games.
"That's always our thing, try to get one-and-out or no shots," Newman said. "To keep those guys out of the paint and turn them into a jump-shooting team, that was kind of the scouting report, just have a hand up and all five guys go crash."
First-half foul trouble that KU coach Bill Self described as "dicey," also played a fairly significant role in this one.
Big man Udoka Azubuike, who made 2-of-5 free throws with a new-look shooting form, picked up his first foul at the 14:13 mark of the first half and immediately went to the bench. That saved the KU big man from foul trouble, but freshman reserve Marcus Garrett was not as fortunate.
In just 1:33 on the floor, Garrett recorded three fouls and was quickly sent to the bench for the rest of the half. Not long after, Vick picked up his second and that forced Self to go to seldom-used guard Sam Cunliffe, who played six first-half minutes and delivered a mixed bag of results.
Foul trouble was a monstrous theme of the first half for the Jayhawks, who reached the locker room on the brink of disaster but not quite past the tipping point.
In addition to Garrett's three fouls, Vick, Azubuike and Lightfoot all finished the first half with two fouls. Lightfoot, who became more critical with every overmatched second played by Silvio De Sousa, was called for his second on a blocking foul with 4:47 to play in the half. Twenty-two seconds later, Lightfoot again stood his ground, this time drawing a charging foul on K-State's Barry Brown, who picked up his second. Had the call gone the other way, KU could've been in serious trouble to start the second half.
"He's by far the best we have on our team stepping in taking a charge," Self said of Lightfoot, saying he had no concerns about Lightfoot sliding in to take the charge.
Added Lightfoot, who banged his head late but checked back into the game a minute or so later and appeared to be fine after the game: "I have to do what my team needs me to do."
In many ways, that described the entire Kansas roster on Monday night.
Whether talking about Mykhailiuk's 22 points, Newman's double-double or the smaller, perfectly-timed plays delivered by the rest of the lineup, the Jayhawks found a way to grind out another and now have won four Big 12 road games in five tries this season.
"I think we're more focused on the road," Self said. "Something about traveling, eating all your meals together, doing the scout and having unlimited time to do it; even though it's only 30 hours total, I do think we're more focused on the road."
A big part of the motivation for that on Monday came from the seniors and had to do with quieting the always-hostile K-State environment.
"That was a big part of it because it can get real crazy up in here and we did a good job jumping out and getting an early lead," Graham said.
Added Self: "I'm not going to comment on the crowd being out of it, because I don't know that they were out of it. But this is the best job we've done since I've been over here (with) the crowd not becoming a big factor late."
Monday's victory gave KU a two-game lead over Kansas State in the Big 12 race and momentarily, at least, puts Kansas a game-and-a-half ahead of second-place Texas Tech, Oklahoma and West Virginia.
KU's next game will come against Oklahoma State on Saturday at Allen Fieldhouse.
---
More news and notes from Kansas vs. Kansas State
---