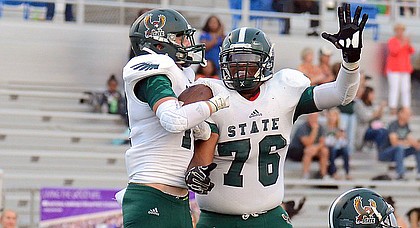 Before walking into school Monday, Free State senior Jalan Robinson received a phone call from a Mississippi State football coach.
Throughout the past week, Robinson talked "off and on" with the Mississippi State coaching staff. Nine days from the start of the February signing period for high school football players, Robinson received a scholarship offer from the SEC school.
"I was on the phone with them and I tried to act cool," said Robinson, an all-state offensive lineman. "I tried to like not notice. But right after that, I called my mom and I called my dad and was talking about it."
The 6-foot-5, 295-pound Robinson saw his recruitment skyrocket within the last month and it reached a new level Monday. Less than 12 hours after his Mississippi State offer, he received a scholarship offer from Nebraska on Monday night after meeting with a coach earlier in the afternoon.
In the last two weeks, Robinson has taken official visits to Western Illinois and Kansas. He landed a preferred walk-on offer from KU on Jan. 17 and received another offer from Southeast Missouri State.
"I know my family is big Cornhuskers fans," Robinson said. "I know they are just happy about this whole thing and my dad is actually more excited about everything than I am. It's a good process."
During his Kansas visit Saturday, he enjoyed meeting some of the new coaches and he had a chance to catch up with some of his former high school teammates.
Robinson shined on the offensive line last season for the Firebirds, earning first-team all-Sunflower League honors while helping the team to a 10-1 record. When he talks with college coaches, many of them bring up the fact that he plays basketball and how it improves footwork.
A starting forward on the basketball team, he's tried to balance all of those practices and games with his recruitment — "a good problem to have," he said. He missed one game to take an official visit.
"Every week I just keep getting something unexpected," Robinson said. "At first, I was just thinking Juco and then some bigger things started coming."
On Monday afternoon, Robinson said he planned to take official visits to Mississippi State and Nebraska in the near future.
Even with the late surge in his recruitment, he hopes to make his decision by national signing day on Feb. 7.
"I feel like once I take one of these visits and I see some place that hopefully it will just hit (me)," Robinson said. "I'll feel it."
Thinking about his Mississippi State offer at school all day, plus hearing from friends and family, it finally hit him when he returned home that he would have a chance to play college football at a Power Five program.
"I was just eating," Robinson said, "and I just, like, started smiling, like, 'I'm really about to play at one of the top levels for college football.'"