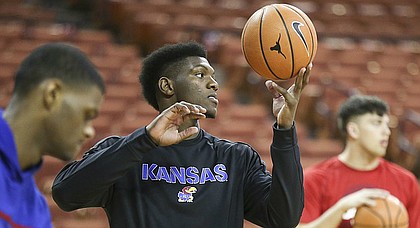 Nearly three weeks after first setting foot on KU's campus as an official member of the Kansas men's basketball team, freshman forward Silvio De Sousa is still waiting to play his first game.
There was some hope Friday that a ruling about De Sousa's amateur status could come down from the NCAA. But Kansas coach Bill Self told the Journal-World on Friday evening that there was, "No news; hopefully in the morning, they said."
With that ended a wild day of speculation that began mid-morning with Self saying, "I think it's going to be a great Friday. TGIF. We've been waiting for Friday all week. Check with me at 5 o'clock. Who knows?"
Those words, while encouraging, certainly did not promise any kind of resolution in the situation surrounding De Sousa or Billy Preston. Many KU fans, especially on Twitter, believed otherwise and spent most of Friday counting down the hours until 5 p.m.
When the time came and went without any good news, the collective eye roll and groan of the KU fan base grew louder.
Self later told the Journal-World, 'This is about Silvio. Definitely no news on Billy and no timetable."
So, on it goes, with both freshmen forwards whom KU officials hope soon will be on the court and in the rotation, helping the 12th-ranked Jayhawks (13-3 overall, 3-1 Big 12) contend for a 14th consecutive Big 12 title, sitting in street clothes waiting for their time.
If, by some chance, the NCAA does return a positive ruling on De Sousa this morning, thus making him eligible to play against Kansas State during today's 11 a.m. tip-off at Allen Fieldhouse, Self said he would have no problem putting De Sousa on the floor.
"I actually do feel like we know him pretty well," Self said. "We've spent a lot of time with him. He's been with us long enough that I would trust him to play in a game, but I don't know if I would trust him to play in the last three or four minutes. But play in a close game, midway through the second half? Absolutely. No question.
"His attitude is unbelievable because he's doing two or three times more than anybody else every day. Whether it be going to Watkins and getting certain tests done or the extra physicals or meeting with compliance two hours a day. So I think his attitude has been absolutely terrific."