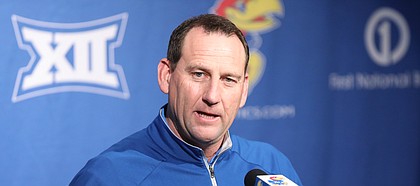 Fourth-year Kansas football coach David Beaty came to Wednesday's signing-day press conference armed with numbers. He was eager to use them to demonstrate his point that he was not putting the Kansas football program right back in the same rut that he inherited from his predecessor.
More on those numbers and notes regarding recruits from junior colleges later, but first let's look at the inescapable reality regarding high school prospects.
In prepared statements released to the press, athletic director Sheahon Zenger and chancellor Dr. Doug Girod talked about Beaty building the football program "the right way." I'm confused. Does that mean that recruiting and developing high school players for four or five years is the wrong way?
Beaty gave scholarships to 11 high school players a year ago and just seven this season, a number that could grow to as high as nine. That translates to 18, possibly 20, in a two-year period. Project that over a four-year period and less than half of his 85 scholarships will go to high school recruits.
Beaty bemoaned his lack of seniors on the 2017 roster, but the way he's recruiting now, his 2020 and 2021 teams also will lack seniors unless he loads up on junior-college recruits.
The only way to break that cycle is to resist the temptation to recruit for the upcoming season at the expense of the future. That takes a lot of discipline, and so far Beaty hasn't shown much of that in recruiting. Turner Gill was the last Kansas coach who did, but his classes encountered too many academic failures for him to keep his job longer than two years with a 5-19 record.
Beaty heads into his fourth season with a 3-33 record, which means that regardless of whether his players come to KU after high school or junior college, not enough of them are ready to play winning football against Big 12 competition.
Without ever mentioning Charlie Weis by name, Beaty talked about how he set about trying not to repeat the mistakes of his predecessor.
"We knew when we got here, based off our research from the previous three years, how did we get where we were and how did we fix it? What were the major problems?" Beaty said. "The major problem was retention and production. Retention, production, and graduation, that was a big-time problem."
Beaty said that 13 of his 24 JC recruits prior to this year's recruiting class were academic qualifiers out of high school.
Just 2 of 36 juco recruits under Weis were academic qualifiers out of high school, according to Beaty.
"A number of those guys never participated a down," Beaty said of Weis' juco recruits. "Fifteen of 36 never contributed on the field. Never. Fifteen of 36! Forty-two percent of those guys did not participate."
And still somehow, Weis was able to cobble together a .214 winning percentage, which doesn't sound like much until compared to Beaty's .083 mark.
Weis hit it big with some jucos who handled both ends of the student-athlete designation well, such as defensive backs Cassius Sendish and Fish Smithson.
But Beaty clearly has done a better job of identifying student-athletes who can handle the academic side of things. He said all of his jucos either have graduated or are on a path to do so.
Still, Beaty hasn't shown the confidence to go all in on recruiting and developing high school players, the slow-growth approach that Mark Mangino embraced after excessive juco recruiting at the beginning of his KU tenure backfired.
Mangino's Orange Bowl squad, always the gold standard around here, defeated Virginia Tech 24-21 to end a 12-1 season. Those Jayhawks started 23 players recruited from high schools, one (guard Chet Hartley) from a junior college.
Players who rise, fall, and pick each other up together over four or five years bond in a way that makes the whole greater than the sum of its parts. It can be done, but nothing can be done without giving it a try.