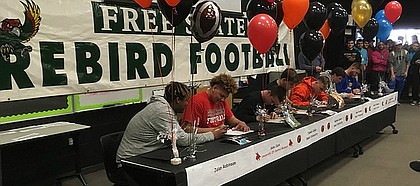 After a whirlwind two weeks, Free State senior offensive tackle Jalan Robinson decided to press pause on his recruitment Wednesday and opted not to sign with any school on National Signing Day.
Robinson, listed at 6-foot-5, 295 pounds, received scholarship offers from Mississippi State and Nebraska 10 days ago, and he landed another full scholarship offer from Kansas on Tuesday morning. He made visits to each of the schools over the last two weeks.
He was planning to sign with a school Wednesday morning, but changed his mind after talking over the decision with his mom.
"To decide my next five years in two weeks was kind of hard," said Robinson, who sat alongside his high school football teammates in a signing ceremony Wednesday. "Things were coming fast and I was going to place to place."
With more time to weigh his options, Robinson said he might set up more visits to other schools before making his decision in a "couple of weeks."
"I might be setting one up with Oklahoma and I'm going to try to get another one in, if possible," he said.
Choosing not to sign Wednesday, he hopes that he can take away some stress by moving a little bit slower. A starter on the basketball team, he tried to balance practices and games with recruiting. He visited Mississippi State last weekend while battling the flu — "a great time," he said — and Nebraska earlier in the week.
"This morning I was talking to my mom and she didn't think it was going to be the right decision for me after we talked about it," Robinson said. "I came to the same decision so I decided I was going to hold off."
Robinson picked up an offer from Kansas after speaking with defensive coordinator Clint Bowen on Tuesday. When he visited KU at the end of January, he was being recruited as a preferred walk-on. Mississippi State and Nebraska offered scholarships a few days later.
Less than a month ago, before all of the offers from Power Five schools, Robinson said he was leaning toward committing to Butler Community College. He said he remains in contact with the staff.
"I thought about staying home," Robinson said of the KU offer. "I still have a lot of other choices to make. It was really exciting to get (an offer) from my hometown."
When a few of his basketball teammates greeted him afterward, they joked with him about waiting for his decision. Several of them passed along advice to take his time.
"I really wanted to sign with my guys, my teammates," Robinson said, "but I'm going to have to do it solo."
Roe inks with Kansas
After signing as a preferred walk-on to play at Kansas, Free State senior lineman Spencer Roe said he's looking forward to the chance to prove himself again.
Roe started his high school career at Perry-Lecompton High and later transferred to Free State. By the end of his senior season, he was named to the all-Simone team.
"It'll be hard, it'll be a lot of work but I think I'm ready to prove myself," Roe said. "I kind of had to do that moving from a small-town school to a big-town school so I'm ready to do it again."
Roe signed alongside five of his Free State teammates. Linebacker David Johnson, described as a "human missile" by coach Bob Lisher, signed with Emporia State. Offensive lineman Gabe Clark is the school's first player to sign with Central Missouri. Linebacker/quarterback Gage Foster, receiver Tanner Cobb and defensive lineman Nathan Spain all inked with Baker University.
Listed at 6-foot-4, 260 pounds last season, Roe expects to line up on defense at KU but is willing to play offense if it can help him earn playing time. He chose Kansas over offers from Washburn University and Emporia State.
With family, friends and teachers in attendance for the signing ceremony, Roe said he had a lot of emotions heading into it.
"Exciting, nervous, just a big moment in life," Roe said. "Something you remember forever, one of those things. I'm excited for the next chapter."