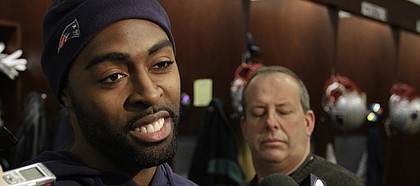 The first assistant hired by new head coach Les Miles, Chevis Jackson signed a three-year term sheet with Kansas Athletics to become the football team's defensive backs coach.
Jackson's three-year deal averages about $163,333 per year, with KU having an option for the third year.
The first two years, 2019 and 2020, are guaranteed for Jackson. If KU exercises the option for 2021, Jackson will make $175,000 that year.
According to USA Today's list of 2018 salaries for FBS assistant coaches, Jackson earned $88,800 as an assistant at Ball State, before Miles, who coached Jackson at LSU, hired him.
According to Jackson's term sheet with KU, if he were to leave while under contract he would owe the "the sum of his remaining salary," unless Jackson left to become a defensive coordinator or head coach at the FBS level.
Related document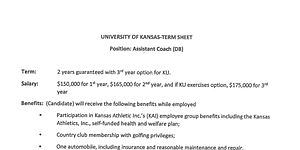 If KU were to fire Jackson without "just cause," Kansas Athletics would make payments to Jackson for the remaining salary on his deal over the course of three years from his termination "or the remaining length of the contract, whichever is longer."
Since Jackson signed the term sheet Dec. 2, he already has made an impact as a recruiter for Miles, playing a part in the Jayhawks landing a verbal commitment from three-star Class of 2019 defensive back Jayden Russell, from St. Thomas Aquinas.
In 2017, 247Sports.com named Jackson the Mid-American Conference Recruiter of the Year.
Jackson was an All-SEC cornerback at LSU in 2007, when Miles and the Tigers won the national championship.
A third-round pick of the Atlanta Falcons in 2008, Jackson spent time with Atlanta, Jacksonville, New England, Denver and Carolina in the NFL before his playing career ended.